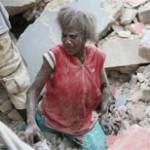 Two of the largest online poker sites in the world, FullTilt and PokerStars, are both calling on players to help with relief efforts in Haiti, where a massive earthquake has taken the lives of thousands, and left many more without a home. All money donated will be matched by the sites, and then donated to the likes of Red Cross and UNICEF.
Mirror.co.uk: PokerStars sets up Haiti earthquake appeal
A devastating earthquake recently hit Haiti, and it is thought to have killed tens of thousands of people. Many around the world are wondering how they can help. PokerStars has been quick to facilitate come to aid during previous disasters, and once again the site has provided people with an easy way to donate money to relief efforts in the area.
Players at PokerStars have already donated thousands since the appeal launched a few days ago. All the money raised will be given to the Red Cross to help its relief efforts in the earthquake-stricken Caribbean nation. PokerStars has announced that they will match every dollar raised.
The appeal will run until midday on January 31. Here is how to get involved:
– From the PokerStars website, go to Tourney >> Special and enter one of the 'Haiti Earthquake Relief' tournaments listed there. 'Buy-ins' range from $1,000 all the way down to $1. These are not actual tournaments, and all of the 'entry fees' go straight to the relief fund.
– Another way to contribute is to make a "private player transfer" for any amount directly into to a dummy account called 'Haiti Fund'. Go to 'Requests' in the site's top menu and select 'Transfer Funds'.
PokerStars is thankful for all who show their support.
ESPN: Tournaments created to help victims in Haiti
Poker players and online poker sites around the world are stepping up to help the victims of the recent earthquake in Haiti. Through the poker sites Full Tilt and PokerStars, players can donate money by either transferring funds through the game software or by playing in a mock tournament.
"Anyone watching the news knows how important it is to get help to the Haitians as quickly as possible," said professional poker player Phil Gordon. "Poker players can effectively double their donations through the mechanisms set up by Full Tilt and the generous matching program. This is a great chance to show the world how poker players can step up and help in a true humanitarian crisis."
Full Tilt is currently offering two different ways for players to donate donate. First, players can register to play in "fake" tournaments at different buy-in levels. The tournaments won't run, but instead money will be donated. The other option is for players donate their own specific amount through the "Aid for Haiti" account, which can accept any amount over $5 as a donation.
Things are happening pretty much the same way at PokerStars, which is offering "dummy" charity tournaments with buy-ins that range from $1 to $1,000. The site intends to match all donations, and the money generated will be given to the Red Cross. Additionally, players can donate to the PokerStars account "Haiti Fund". PokerStars says that thousands have already donated, and the site hopes to do all it can to help to the people of Haiti.
If there ever was a time for the internet poker community to make a difference, these next few days are the perfect opportunity.
Chicago Now: Play Poker, Help Haiti
On January 12, 2010, a 7.0 magnitude earthquake struck Haiti, killing tens of thousands of people.
The quake tore open the land not far from the country's capital of Port-au-Prince, causing wide-spread devastation on a massive scale.
It is in situations like this when we see the best (and worst) that humanity has to offer, where unlikely heroes and villains emerge to show off either their sincerity or their cold-heartedness.
For this crisis, the online poker industry has emerged on the side of the heroes.
Both Full Tilt Poker and Pokerstars, both huge sites in the online poker industry, are calling players to give aid to the people of Haiti.
Full Tilt and Pokerstars have organized several charity tournaments that players can participate in to help raise money for UNICEF, the Red Cross and Doctor Without Boarders in Haiti.
Both sites have vowed match every dollar raised. Full Tilt has even created a dummy player account called "Aid for Haiti" where real players can transfer their donations directly.
This humanitarian fund raiser is not operating without solid promotional backing. Both Full Tilt and Pokerstars have already made strong efforts to spread word about their Haitian earthquake relief appeal, even going as far as to announce it during live poker tournament broadcasts.
Poker pro Barry Greenstein once said that poker sometimes feels like a "hollow" profession, like a career that is all about taking without ever giving. Greenstein's solution was to become involved with charity, and now poker players from around the world can follow his lead.
Categories: sportsbook | Uncategorized | Uncategorized | post-tournaments | post-tournaments | gambling | poker | poker