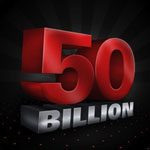 PokerStars created a lot of hype in the online poker world these last few days as they approached the 50 billionth hand of poker played at the site. Nobody quite new what that hand would entail, but as things turned out, it was a poker hand for the history books.
There were 220,000 people on PokerStars yesterday playing on 33,000 tables, each one of them hoping to win the milestone hand and the big cash bonus that PokerStars promised would go along with it. In the end, the 50 billionth hand was played by a member from Germany named tbvle, who walked away with an impressive $56,140 though the PokerStars 50 Billion Hand promotion.
But here's the really incredible part: tbvle was playing microstakes at a $0.02/$0.05 NL Hold'em cash table! The actual pot for the hand was only $26, but is very good for a microstakes table. Apparently the players at the table were so excited to win that the five billionth hand that everyone went all-in before the flop!
Hundreds of railbirds sat on the sidelines watching the historic hand. When tbvle won with a pair of queens, he made PokerStars history, and won a lot of cash too.
The other 5 players at the table were reward too, each grabbing about $3,000 just for being there. Everyone got a $5,200 WCOOP Main Event ticket too, just because PokerStars was feeling generous.