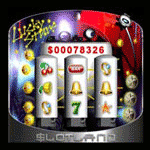 Slotland is an online casino dedicated to slot games. The site runs on proprietary software, which means every game they offer is exclusive, and can't be found anyplace else. Slotland is especially well known for its progressive jackpot games. The jackpots don't get as high as they do on some of the larger software networks like Microgaming or Playtech, but players can still win considerable amounts of money.
The latest jackpot winner at Slotland is player SOUTHBELLE, who just the other day won $148,711 while playing the Lucky Stars progressive slot.
"I'm so excited I can't think straight," said the lucky player shortly after she won. "I'm sure not used to having that kind of spending money so I really don't know what I'll do with it! I'm terrible for spoiling my family. Can't help it! So I'll have some fun with this that's for sure. First though, my brother has been going through some tough times lately so I'm going to help him with some of the bills that have piled up."
All the slots at Slotland are connected to the same progressive jackpot. The last time this jackpot was won on Lucky Stars was way back in December 2007, but since then, players have won the jackpot on other Slotland games.
"We had a $168,476 winner in May but other than that this is our biggest win since last October," said Slotland manager Michael Hilary.
The Slotland Casino progressive jackpot has been reset to the base amount of $50,000 and will start growing with every wager placed at the casino until another lucky player wins it all.