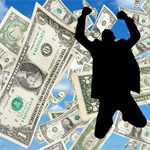 One of this week's top gambling news stories is about a Joan Ginther, a 63 year old Texan who is a very, very lucky woman. Just a few days ago, she spent $50 on a scratch card lottery ticket, and ended up winning a very impressive $10 million jackpot. She was happy, but she might not have been very surprised.
While most lottery players would be grateful to win such a large jackpot, for Ms Ginther, it is becoming a regular occurrence. This recent win is in fact the fourth seven-figure lottery jackpot she has won in the last 20 years.
Her first big win came back in 1993 when she won $5.4 million. After a long break, she won again in 2006, turning a $30 scratchie ticket into $3 million. Two year later, in 2008, Ms Ginther won for the third time, taking another $3 million from a lottery scratch ticket. Her latest win pushes her total lottery jackpot winnings to a massive $20.4 million.
Ms Ginther has not given any interviews, and is shunning the worldwide publicity that her luck has brought her. It is not known how she intends to spend the largest lottery jackpot she has won so far.
Lotteries are popular all around the world, but their prizes are usually limited to a particular state or a particular country. An alternative global jackpot system can be found online. They are called progressive jackpot games, and they can be played at most online casinos.
Progressive jackpots games, like major lotteries, are capable of paying out in the millions. These jackpots grow bigger as more players enjoy the games, since a small portion of each player's wager is added to the prize. These progressive jackpots are tough to win, but the payouts can be life-changing.