: Use of undefined constant renderBlock - assumed 'renderBlock' (this will throw an Error in a future version of PHP) in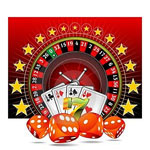 An interesting study printed in 2009 and recently put online at the Journal of Consumer Research website is a report entitled "Blackjack in the Kitchen: Understanding Online versus Casino Gambling." Written by June Cotte and Kathryn A. Latour of the University of Western Ontario, the findings are the results of a psychological study of 30 gamblers.
Two major points are made in the study: Firstly, like most academics studying the subject ultimately conclude, Internet gambling should be regulated, but the second point was far more interesting and unexpected. Cotte and Latour immediately noted the dramatic diametrical opposition of standard casino and online casino players: Rarely did one type or the other cross over into the other gaming experience.
Both land-based and online casino visitors noted the social element of their preference, namely that visiting a real-life casino is a highly social experience and that Internet gambling is a solitary activity – and both groups cited this difference as the no. 1 reason for their choice.
"Casino gamblers perceive online gambling as bereft of social connections, which was pivotal to the enjoyment of gambling for them," reads the study in part. "The online gamblers also perceive this lack of social connectedness in virtual gambling. But for them, this aspect is positive; it is one crucial reason the online gamblers gave for their choice to stay home and gamble. Many online gamblers chose the online environment because of the perception of the lack of social connections."
The study also notes an interesting justification for those of modest budgets to enjoy playing in online gambling sites: "The perceived anonymity of the online environment equalizes gamblers, so that low rollers and high rollers are treated equally. In contrast, in a casino more experienced gamblers who bet larger amounts are treated specially, and some gamblers go to the casino seeking such ego gratification."
"Blackjack in the Kitchen" is available by subscription only from Chicago Journals.