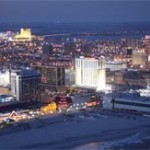 A new bill was just introduced to the state senate of New Jersey that would allow Atlantic City casinos to offer online gambling services. The game terminals would have to be located in restricted areas of casinos and racetracks, and all equipment would have to be located within the boundaries of the city, making this more "local intranet" gambling than true internet gambling.
Press of Atlantic City: Legislation would permit online betting at Atlantic City casinos
New legislation introduced a few days ago would allow online gambling at casinos in Atlantic City, New Jersey.
The bill is sponsored by state Senator Raymond Lesniak. Specifically, it would allow "New Jersey residents to place wagers on casino games via the Internet." All online games from blackjack to poker would be available.
The bill would require that all computers used for legal online gambling be located in a separate area of a casino, "but within the territorial limits of Atlantic County."
An annual tax of 20% on gross revenue from online gambling would be paid into a casino revenue fund. A new unit would be created under the state's Casino Control Comission called Division of Internet Wagering.
The Casino Control Commission along with the New Jersey Racing Commission would also allow the operation of online gambling terminals at racetracks, where "individuals who have registered to participate in Internet wagering may wager on games conducted at casinos in Atlantic City."
WebProNews: New Jersey Considers Legalizing Online Gambling
A newly proposed law introduced in New Jersey would allow players there to gamble online through special websites run by casinos in Atlantic City.
The bill was introduced into the New Jersey State Senate last week by Senator Raymond Lesniak. Incidentally, Lesniak also introduced a different bill which asks New Jersey residents to vote on a constitutional amendment which would allow state-regulated sports betting at Atlantic City casinos.
Right now, New Jersey offers legal online gambling on horse races to local residents through the 4NJbets.com website. If this bill passes, the state will change the law to permit online versions of any game currently allowed in Atlantic City casinos, such as poker, blackjack and baccarat. The new online gambling system would be controlled and regulated by the New Jersey Casino Control Commission, which would establish a new Division of Internet Wagering to manage operations and licensing.
"We're happy that New Jersey has taken this issue into their own hands," said iMEGA chairman Joe Brennan Jr.
StandardBred Canada: Gaming 'Terminals' Coming To NJ Tracks?
A newly proposed bill introduced by New Jersey state senator Raymond Lesniak could allow Atlantic City casinos to offer online gambling services to New Jersey residents. The bill reportedly has some support in the senate already, but those that do not want to online gaming at the state's racetracks are voicing their displeasure.
An article by Press of Atlantic City states that Mark Juliano, who is chief executive officer of the three Trump Entertainment Resorts casinos in Atlantic City, revealed that the legislation appears to allow racetracks to also get video lottery terminals.
The report further states that any equipment used to run the new internet gambling system must be located within the territorial limits of Atlantic County, such as within a casino or at another secure location.
The bill reportedly states that the New Jersey Casino Control Commission might also let racetracks operate online gambling terminals. These terminals will likely be identical in appearance to slot machines found at local casinos.