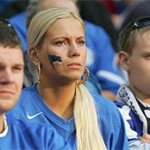 From the first of the year, Estonians can gamble online. For now, only locally-hosted sites are allowed to operate. Any online gambling website in Estonia that does not meet new regulations will be blocked. In 2011, the country will open its online gambling industry to foreign operators.
The Baltic Times: Estonia Legalizes Online Gambling
Estonia recently legalized internet gambling in order to generate revenue through taxation.
The country is hoping to adopt the Euro next year and is frantically looking for further sources of income after suffering one of the hardest-hitting recessions in the EU.
This move to legalize online gambling was influenced in part by recent and very successful poker tournament held in the country. The tournament was sponsored by PokerStars, one of the largest online gambling sites in the world.
According to the Estonian Free Press, players will be able to use Estonian online gaming sites starting immediately. In 2011, Estonia's internet gambling market will open to foreign operators.
"We are truly glad of this opportunity to start our partnership with Olympic as the leading casino entertainment provider in Central and Eastern Europe," says Mor Weizer, Executive Manager of Playtech, who has been granted one of the first foreign licenses.
Estonian poker legend Imre Leibold believes development may be detrimental to Estonian players. "The possibility that online poker gaming could be restricted is not good news for us," he said. "I believe and hope that the whole affair is resolved and that there will be several reasonable gaming locations on the market. However, if things get tough, one may have to consider moving residence or start working abroad like Estonian builders in Finland."
Estonian Free Press: Estonia Legalizes Online Gambling
Following the success of the Baltic Poker Festival, held in Estonia organized by online poker site PokerStars, Estonia prepares to its doors to the global internet gambling market that.
Starting immediately, the Government will allow Estonian players to gamble online. The liberalization of online gambling is expected to help the nation financially through taxes imposed on gaming operators.
With the Estonian economy down by close to 36%, these changes will bring even more revenue in 2011 when the gambling market will open to international gaming operators that are able to satisfy the regulation requirements.
Until then, Estonians will be able to play only at locally-run sites, like the one set up by the Olympic Casino group that is running on Playtech software.
Now that online gambling in Estonia is as legal as it is in land-based casinos, here is hoping that no one will have to report about stories about things such as the Arvo Viool scandal – the ex-manager of the Fund for Furthering Culture who was arrested and imprisoned for stealing 500,000 Euros from the State to satisfy his gambling addiction.
Baltic Repots: Online Gambling Regulation Begins
Online gambling in Estonia has gone unregulated for many years, but now that is all changing since the government now requires online casinos to be physically hosted in Estonia.
Before January 1 2010, gambling sites could not be hosted Estonian servers, and players could freely use foreign hosted sites. The new Gambling Act reverses this; now, online gambling sites must be hosted on Estonian servers, and those not will be blocked.
For a company set up an online gambling site in Estonia, they must receive a license and agree to pay a 5% sales tax (excluding player winnings).
"As such, online gambling taxation in Europe is nothing new, it has been applied in most of the countries," says Annika Vilu, spokeswoman of the Ministry of Finance. "Estonia's tax rate is still one of the lowest in Europe."
According to Tõnis Rüütel, executive director of Estonian Association of Gambling Operators, "There are countries with smaller tax rate, such as Malta and Gibraltar with 3 percent but we don't want to have a reputation of a tax paradise. Also the situation so far has been absurd as the gambling addiction emerged in Estonia, but all of the income went elsewhere."
If an online gambling site in Estonia does not meet these new requirements, its website will be blocked and its bank accounts will be frozen.
"We'll see how the law comes into force, and if it will be possible to block the gambling sites not fit for the requirements, but some other countries have not been able to do it so far including the U.S.," Rüütel said.