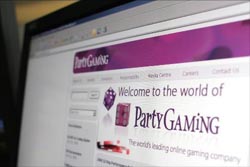 PartyGaming reported an unexpected increase in forth-quarter revenues, marking the first time in the last year and a half that they have seen growth. They attributed the growth to several factors, including the introduction of new games in their bingo and casino sections, and to a better loyalty system in their poker site. A strengthening dollar may also have contributed to the increasing success of the site.
Times Online: Online gaming groups say they are on winning streak
Two of the largest online gaming groups in Britain revealed yesterday that players are returning to the tables. PartyGaming just saw better their best quarter since the second quarter of 2008, while Sportingbet saw a similar increase in revenues.
PartyGaming reported growth across all categories, including internet bingo and online casino. KBC Peel Hunt, a stockbroker and advisory house, projected a 24% rise in revenue compared to the fourth quarter of 2008, making this the first rise in the past year and a half.
The site's poker tables saw the biggest increases. PartyGaming recently revamped site and has been working hard to introduce better loyalty bonuses. PartyGaming's chief executive Jim Ryan states, "Returning poker to growth has been a key focus for us. We are pleased to see that the initiatives introduced throughout the year are now feeding through into both operational and financial performance with increased player numbers and average net daily revenues."
Meanwhile, Sportingbet spread a similar statement yesterday, remarking that the strength of their online sportsbook, which provides nearly 70% of their total revenue, has been thriving.
Financial Times: PartyGaming flush with poker revival
Poker revenue at PartyGaming returned to growth during the last quarter of 2009, showing the first increase in the last six quarters.
In a trading update, the internet gambling group revealed that major European-based poker operators have been facing strong competition from dominant US groups Full Tilt and PokerStars, which are using their liquidity in the unregulated US market to increase their strength in the European market.
Morgan Stanley suggets three reasons to explain PartyGaming's poker recovery: a more regulated European market; a stronger dollar; and the company's ever-improving loyalty schemes.
PartyGaming did not mention their early-stage merger discussions with Bwin, its Austrian-based online gambling rival. The company did, however, announce a £35m three-year loan, which it intends to use for mergers and acquisitions.
In a similar announcement, Sportingbet stated that it was confident of a "satisfactory outcome" for the next financial year. Sports betting represents almost 70% of group's revenues and will be the main force behind their growth.
The New York Times: PartyGaming Sees FY Earnings Up on Poker
Online gambling firm PartyGaming announced that fourth-quarter trading was solid, due to a return to growth in their online poker operations. The company things full-year earnings may beat their own expectations.
PartyGaming's revenue is in line with forecasts, though clean earnings )before interest, tax, depreciation and amortization) are expected to be slightly ahead of projections.
PartyGaming said that both its online casino and internet bingo businesses were both performing well due to the introduction of new games, higher jackpot payouts, and their Cashcade acquisition back in July. In their sports betting operations, the company also benefited from a good run of results.
Analysts expect that PartyGaming will report EBITDA of about USD 132 million (GBP 81.4 million) for the fiscal year 2009, according to a Thomson Reuters I/B/E/S poll of eight brokers.
British media on Sunday revealed that PartyGaming is in discussions with Austria's bwin Interactive Entertainment AG, but bwin downplayed the report, saying it was not in any advanced talks. PartyGaming did not comment on market speculation.