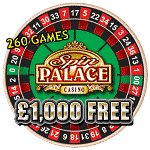 Here's the kind of jackpot story that could only happen in an online casino situation. Several news outlets – including GamblingResults – reported late last week that the big Mega Moolah progressive jackpot of $4.1 million had been hit at the Blackjack Ballroom internet casino; some outlets were even informed that another casino had doled out the win.
While the fact of the big jackpot win was indeed true and lucky player "Mrs. P" will indeed be recipient of this proverbial life-changing sum, it turns out that the Mega Moolah jackpot was in truth won at Palace Group casino Spin Palace.
The controversy apparently became great enough to elicit a comment from Microgaming casino group CEO Roger Raategver, who said, "We are delighted that [the] Mega Moolah progressive jackpot was won on Aug. 29th, 2010, and we will confirm that even though this win was claimed by many other casinos, the truth is that the winning player was gambling at Spin Palace Casino."
Though such jackpots represent substantial payouts by the casino which hosts the winning progressive slot, most online casinos turn the newsworthy event into years' worth of PR opportunities.
No comment has appeared on the matter from any other involved party, but a Spin Palace representative did say that "Mrs. P is quite overwhelmed by what will undoubtedly be a life-changing windfall. We are currently in discussions with her, and will hopefully be able to make further announcements shortly."