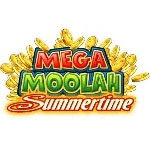 It has finally happened – Mega Moolah, one of the best paying slots in online casino history, paid out a massive chunk of its progressive jackpot to a lucky player at Blackjack Ballroom Casino. The identity of the winner has not yet been revealed, but one thing is certain – they are in a good mood!
Mega Moolah is actually a name given to a whole series of video slots developed by Microgaming. Each game one shares the same four-level progressive jackpot. This jackpot is seeded at $1 million, so when it pays, it always pays big.
This week's $4,170,128 prize paid out on the newest addition to the series: Mega Moolah Summertime. The game has a basic slot theme, with bold and colorful graphics depicting classic slot machine symbols like fruit, bells, and bars. A unique feature of these Mega Moolah series games is that their jackpots are paid out during a randomly-triggered bonus game. This means that the jackpot can pay out on any spin, though higher wagers do increase the chances that the bonus game will launch.
Blackjack Ballroom Casino is part of the Casino Rewards group of online gambling sites. This Microgaming casino is a hotspot for progressive jackpot activity, and this is not the first time that Mega Moolah has paid out big here. Back in April of 2008, Mega Moolah paid more than $5.5 million on a 50 cent bet!
Two big wins on the same slot at the same casino might just be coincidence, but perhaps there's more to it than that. Either way, the Mega Moolah jackpot is already back up to $1.5 million, and can still pay out on any spin at Blackjack Ballroom Casino.