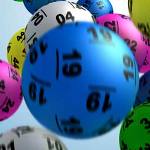 A county magistrate in Berkeley County, West Virginia, will now be able to retire after winning a huge $79 million
Powerball
jackpot.
Magistrate W. Randy Smith, 63 years old, cancelled a scheduled vacation when he heard he'd won the jackpot in favor of his incipient extended holiday thanks to the eight-figure payout. Smith made his intention to step down from the bench, a position he was elected to in 2008, known in a fax to his boss, judicial circuit chief judge David H. Sanders.
Smith served as Berkeley County deputy sheriff for 12 years and as county sheriff for eight before the 2008 election.
In an interview with local media, Smith explained that he didn't want his employees to be "left holding the bag" and that he would "certainly miss the people that I've met and worked with over the years. … I've just always enjoyed public service, [and] it has been rewarding to be able to help people."
Smith said he planned to financially assist some family members with his prize, buy a new car and take a vacation overseas. After taking the "cash option" and figuring for taxes, Smith's winnings amounted to about $30 million. The winning numbers were 07, 10, 12, 22, 27, and powerball 26.
The magistrate's last day on the job will be September 6.