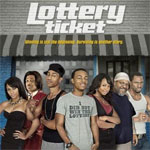 Director Erik White's new film Lottery Ticket is, unsurprisingly, a movie about a young man who wins the lottery. It is a comedy that doesn't take itself too seriously, and judging by the reviews that are popping up from film critics, nobody else is taking it very seriously either.
Lottery Ticket stars rapper Bow Wow as Kevin Carson, a young man living in the projects with his grandmother, whose life takes a turn when he wins a $370 million lottery prize. When he tries to cash in his winning ticket, he finds the lottery office closed for a long 4th of July holiday weekend. The movie follows his misadventures as he struggles to survive three days of begging and bantering from his friends and family, who are all eager to grab a slice of his new jackpot prize.
It's an easy movie, slightly charming, but overall it's not a very satisfying ride. Its all-star cast (Mike Epps, T-Pain, Keith David, Charlie Murphy, Gbenga Akinnagbe, Terry Crews, Ice Cube and Loretta Devine) offers a lot of great cameos which spices things up, but these brighter moments don't keep the story from being utterly predictable. Is this Lottery Ticket worth the $9 it costs to see it in the cinema? Probably not.