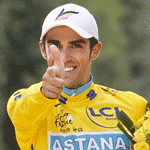 It is fashionable to speak of "dynasties," i.e. multiple repeat title-winners, in many sports these days, but perhaps no championship is so susceptible to dominance by a single force as the Tour de France. The latest mighty ruler over the sport is this year's winner Alberto Contador of Spain, who overcame Andy Schleck to take his third Tour in four years – and his third in three tries.
Though Contador managed to sport the yellow jersey from Stage 15, it was hardly easy going for the back-to-back champion. In Stage 3, Contador went down among the peloton in crash that would remove Frank Schleck from the competition altogether and set back the Spanaird's chances for some time.
But Contador had been there before and he slowly chipped away at Andy Schleck's lead, which the youth rider had regained in Stage 9. Stage 15 was key in the 2010 Tour de France and in fact Contador invited controversy when he forewent certain unwritten rules of sportsmanship to blow past Schleck as the chain on Schleck's bike fell out. Though Contador apologized after the race, some former cyclists including Miguel Indurain came to his defense.
Schleck would fight back and take Stage 17, but since Contador finished mere seconds behind in the stage, it made little difference. At the end of Stage 19, Contador had built up a lead of 39 seconds and held that difference through Stage 20 for his second consecutive Tour de France win.
Contador now joins recent superstars such as Greg LeMond (Tour de France winner in 1986, '89 and '90), Indurain ('91 through '95) and Lance Armstrong ('99 through 2005). The next dynasty may be Schleck's, as the 25-year-old Luxembourger has now won three straight youth rider titles on the Tour de France.
In terms of odds, the bookmakers were again prescient, as the 4/7 odds on Contador held against Paddy Power's proposition bet offering a 5/4 line on "the field." In 19th place, John Gadret ended up the top Frenchman, a surprise to bookmakers who had him at 15/2 odds to be the tops from France in the race.