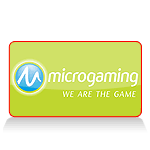 Microgaming is a software company that produces online casino games and gaming platforms that are used by gambling sites all around the world. They are one of the top dogs in the business, and their game library now has more than 450 individual titles, more than any of its competitors. A recent press release has revealed that Microgaming casinos have paid out more than $280 million in progressive jackpot prizes since the company first started offering online casino games more than a decade ago.
A large percentage of this incredible pile of money was paid out through special Microgaming casino games that offer progressive jackpot prizes. These progressive games are networked across all Microgaming casinos, and a small portion of every wager made on the game is added to its progressive jackpot prize. The jackpots continue to grow until one lucky player hits the winning combo, then the jackpot is reset. There are currently 36 Microgaming progressive jackpot games available, making it one of the largest progressive networks on the internet.
The software company made online gambling history in 2009 when one of their progressive jackpot games, Mega Moolah, paid out a record-breaking €6.3 million prize. The same jackpot now stands at €3.7 million, and can be won by anyone at any time.
Microgaming was founded back in 1994, in the early years of the internet. The company opened up the first true internet casino that same year. They have grown exponentially over the years, and Microgaming's software now powers 120 casinos and 40 poker rooms serving tens of thousands of players all around the world.