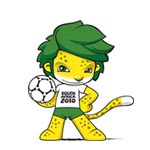 While the final result and the final match of the 2010 FIFA World Cup wasn't highly unexpected, the relative lack of clear-cut favorite throughout the tournament made for some big payouts for punters who bet correctly.
To start the tournament, Spain was a favorite at every sportsbook: The only variable were the odds, which ran at 4/1, 9/2 or 5/1. That's at least $500 on a $100 bet just for picking the no.1 ranked team in the world going into the tournament. Even with eight teams remaining, Spain was still getting 11/4 odds at PaddyPower – a potential $375 more on a $100 wager.
Ladbrokes Sportsbook had finalists Spain and Holland at 2/1 and 13/2 to make the final match when the World Cup began. A $50 bet on each there earned clever bettors a total of $525.
As for individual matches, the biggest money was predictably made betting against the powerhouses. Those foolhardy enough to have wagered on Switzerland to beat Spain in their first game got odds of 11/1 at Brobury Sports for a huge $1,200 on $100 invested. And despite the terrible morale on Team France going into their third game, a South Africa win was still getting 11/5 odds at PaddyPower, for another $320 on $100 when the host nation defeated the champions of 1998.
Probably the biggest loss in the tournament was suffered by a bookmaker. Paddy Power had installed a money-back special for the World Cup, in which certain wagers would be returned on a 0-0 draw. England-Algeria in group play ended at 0-0 with millions bet by British punters and a sizable fraction returned on what normally would have been profit for the bookmaker.
But on our wagers, we just turned $500 into $2,920. See? Betting on the World Cup is easy. Good luck in 2014!