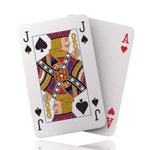 There are hundreds of casinos scattered all across the internet, and it would take even the most dedicated player months to try them all out in a quest to find the top online blackjack games. Fortunately, this is not necessary, because there is an easier way to find out which casinos offer the best games – the key is to look at the software.
Each online casino runs on specific gaming software, and since there are just a handful of different casino software providers out there, looking at the software a site operates on can give players a good idea about what games that casino will offer. Of course, there is still the problem of deciding what games are the best, because every player will have a different opinion! To solve this, here are a few different ways of looking at things.
Biggest variety
Players who live for variety should look at Microgaming casino games to satisfy their online blackjack cravings. Microgaming offers more games than any other casino software (over 450 at the last count), and included in this massive game selection is a tremendous selection of more than 40 different styles of blackjack! Microgaming casinos are sure to keep blackjack fans busy for a long, long time.
Most realistic games
This is a tie between two different casino softwares: Cryptologic and and WagerWorks. Both of these software producers focus on realism, with lifelike tables, natural looking cards and chips, and visual embellishments like brass card shoes and polished wood table rims. These games also incorporate animations and sound effects to add to the realism.
Most unique games
The blackjack titles offered by RealTime Gaming casinos are very special. They don't aim for realism, but instead they try to look smooth and classy. A cool blue and black color scheme sets the stage, while bold cards and chips make the games easy to follow. The games are fast-paced and intense, making for exciting online gameplay.
Biggest jackpots
Most casino software companies offer at a progressive blackjack game. These games usually require a special side bet to enable the progressive payout, so they're more expensive to play, but the jackpots can grow to enormous sizes, making them worth going for. The biggest progressive blackjack jackpots tend to come from the games offered by Playtech and Vegas Technology.
By now, it should be clear that choosing the best online blackjack games is not an easy task. It really depends on what features a player values in a game, whether it's variety, realism, novelty, or big payouts. The best way to make a final decision is to just try one or two casinos from each software provider – only then can a player truly know which internet blackjack games they like best.