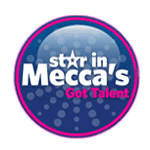 In honor of the season-ending episode of the reality TV performance show "Britain's Got Talent" (and in honor of the "football widow" left abandoned for the telly at the pub by her husband), Mecca Bingo this week launched their "Mecca's Got Talent Club Finals" promotion, an interesting contest with a cash prize of £3,000 and a booked performance date at Wembley Stadium in May.
Through Friday, any British citizen can upload his or her "Britain's Got Talent"-style video to the Mecca Bingo Facebook fan page. After reviewing all submissions, two entrants will join Mecca's eight club finalists to perform in the finals on September 4th. The show will be hosted by Scottish TV personality Lorraine Kelly and the winner receives the £3,000 grand prize and the performance at Wembley in May 2011.
Hundreds of submissions have already been entered into the contest and Mecca gaming director Angus Nisbet has stated that "many Mecca players have already shown amazing degrees of talent."
Incidentally, Mecca Bingo reminds that a second promotion is running specifically for football widows: The "Chat Challenge" trivia contest with £550 to be won when CMs periodically ask questions during bingo games. The perk for this audience: "Those of you who are fed up with hearing about the World Cup will be pleased to know that none of this bingo site's questions are football-related but are questions about countries all over the world," says PR material for the event.
Finally, on Saturday, June 19th, a Chester-based bingo hall has announced the Mecca Bingo-sponsored "Blooming Great Tea Party" to raise money for the Marie Curie Cancer Cure; naturally, bingo games will be on offer.
All proceeds from the event will go toward assistance for homecare for the terminally ill in Britain. Mecca Bingo has set itself a goal of £200,000 to be raised for Marie Curie Cancer Cure and other charitable organizations.