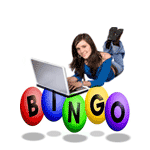 In contrast to many other types of online gambling, Internet bingo is inherently a social game in which the chitchatting is an integral part of the gaming experience. If you play bingo online, you'll also be meeting new people and making friends. Therefore it's important to consider a few unwritten rules expected of fellow bingo players. Six simple suggestions for dos and don'ts for Bingo chitchat might be the following.
• Do your research. Many a webpage or forum topic is devoted solely to bingo chat rooms. Why? Because even a bingo website with the best possible promotions and tournaments running 24/7 means nothing without a friendly and lively chatroom. Also important to look for in doing research are free chatroom games – an essential to keep players interested and enthused.
• Don't bother with the free bingo sites. While free bingo sounds fun, these sites are overwhelmingly poorly run, have inferior customer/technical support and attract few people who actually stay regulars, an essential feature of a fun bingo website. And the chatrooms at such websites reflect this.
• Do be polite. Please. Virtual society is still society, after all, so please apply the golden rule. Of course, some unintentional stepping on people's toes will happen in a suitably international and multicultural bingo room. In general, the same rules of polite conversation apply and therefore it's best to stay away from controversial subject matter. One thing that can be emphatically stated is the following.
• Don't brag about your wins. This is really a turnoff in terms of bingo chit chat and can inspire serious bad feelings, even accusations. These in turn tie in with…
• Don't complain about players winning. It sounds bad and it's silly if you think about it. There are nowhere "house players" and it is seemingly impossible for anyone to cheat at online bingo. Please remember that it's all about luck and there are no bingo conspiracies.
• Do learn some lingo. If you want to chitchat, chitchat in cool fashion by learning some online bingo lingo. Most of these are actually Internet-like acronym terms, but in addition to LOL are some specific "words" like "1tg," which means "one number to go until I hit bingo." Then there's BLNT for "better luck next time" and POOF for "I have left the chat." And fellow bingo players are referred to as "Roomies."
The next time you chat while playing online bingo, remember your bingo etiquette and you'll have even more fun. So have a great time, GL2U and TTFN!