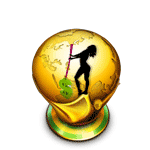 The 2010 World Cup looks to be the single most wagered upon event in sports history, with over £1 billion in bets expected at online gambling sites and bricks-and-mortar bookmakers' shops alone.
While the great majority of this will be placed by punters on the eventual tournament outcome and on individual matches, oddsmakers naturally offer a number of bizarre propositions on which riskier (or crazier) types may gamble.
If you're one of those bored with the more traditional 2010 FIFA World Cup odds, check out some of these fresh alternatives.
• Total number of red cards given during the World Cup: over/under 19.5. Nobody really likes to see red cards on the football pitch: They do everything from slow down the game to ignobly end careers. Of course, one way to enjoy the referee's moment of glory in this World Cup would be to bet on the outcome. How can you spot the fan who made this bet? He's the only one cheering for the zebra!
• England is eliminated from the tournament on a penalty shootout: 4/1. Perhaps the most bet-upon side in the whole 2010 World Cup is England, which has even UK-based bookmakers worried that the country might get to relive the glories of 1966. On the other hand, there's this prop bet, which will surely appeal to many cynical Brits.
• Any goalie scores in the tournament: 11/2. It's never happened in World Cup history, but someday surely will.
• Diego Forlan of Uruguay scores the final goal of the 2010 World Cup: 500/1. This proposition is definitely not for the faint-hearted. Not only would Uruguay presumably need to at least make the World Cup final, striker Forlan needs to put in the game-winner. Either that or the punter is cheering for a lot of nil-nil shootout wins for the country that hasn't won the tourney since 1950.
• Pick all 64 games correctly: €1,000,000. Titan Bet is offering this chance at riches, immortality and a genius label. And if someone picks "only" 49 games correct, that's worth €250,000, too.
• North Korea to win: 2000/1 (or more). This line is Paddy Power's and actually represents odds a bit shorter on North Korea than on many Internet gambling sites offering World Cup betting. All right, so this isn't a bizarre proposition bet, but it would take a certain kind of punter to put any amount down on this all-time darkest of all dark horses.
Whether you're betting soberly or crazily, enjoy the 2010 FIFA World Cup! And Gambling Results reminds all its readers to please bet responsibly.