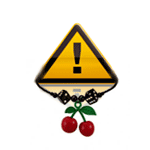 On June 01, 2010, American gambling laws changed. An old bill from 2006 called the Unlawful Internet Gambling Enforcement Act (UIGEA) went into full effect, forcing US banks and credit companies to stop processing transactions to and from online casinos and other internet gambling sites. The law represents an attempt to put a stop to online gambling in the US.
The reason for this round-about approach to the issue of internet gambling is simple: an all-out ban would be completely unenforceable. While American companies are absolutely not allowed to offer online gambling services, there are plenty of countries around the world that do offer gambling over the internet, and many of these foreign-based online casinos accepting US players. While the American government doesn't like this, they can't stop it directly, simply because these websites operate in other countries where American authorities have no jurisdiction.
The UIGEA is therefore a rather feeble attempt to slow down gamblers. It has been a long time coming, and everyone connected to the industry has been preparing for it since it was first announced in 2006. The initial announcement had a big effect, driving some online casino software providers out of the American market. A few stayed, however, leaving players with a decent selection of sites where they can sign up and gamble online.
The biggest issue now is banking. US players will find it difficult, if not impossible, to use their credit or debit cards to deposit money directly into an account at an online gambling site. Instead, they simply make indirect deposits – there are alternative banking methods that re-route funds, taking money from the player then passing it on to the gambling site (and vice versa when it comes time to collect winnings). US players have already been relying upon these alternative online gambling payment methods for several years.
At the end of the day, the UIGEA does little to prevent US players from gambling online. One thing it most certainly does not do is to ban internet gambling. Despite what the media says, online gambling in the United States is not illegal. While certain individual states do have laws against gambling in general, players enjoy some leeway with the system, since the internet creates questions about jurisdiction. US lawmakers seem to be moving slowly towards the regulation of internet gambling, but it could be a few years off – until then, Americans continue to enjoy online poker, internet casino games, even bingo and sports betting, all without breaking the law.