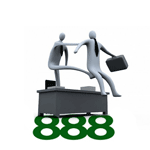 Gaming group 888 has had a difficult 2010 and it seems things are only going to get worse. After releasing a profit warning showing that poker turnover had decreased by 18% between January and May, 888 now anticipates losing even more business during the 2010 World Cup this summer. While 888 blames an industry-wide decline, currency fluctuation and even illegal casino operators for their woes, some financial experts wonder if 888 is ripe for a takeover.
The Guardian: Gaming group 888 could attract predators after profit warning
After a gloomy warning from 888 spokespeople regarding revenue between January and May, the company has left itself vulnerable to takeover. Following up on a similar negative forecast released in April, 888 showed that the number of players at its poker website dropped by about 18% in the first five months of 2010.
Though 888 believes the downward trend to be industry-wide and that its own program of cost-cutting must be adhered to, spokesmen maintained that 888 would continue its strategy of acquisition – a plan 888 seems to be incapable of at present.
Rumors that bigger companies Party Gaming and/or Ladbrokes might make a bid at a takeover of 888 emerged while 888 stocks lost 21% of value on the day of the announcement to finish trading at 53.25p. Greg Johnson of investment banking services provider Shore Capital stated that Ladbrokes "needs greater scale in its online operation, in our view," making 888 operation a perfect match.
This is London: 888 will spend World Cup behind the sofa as it predicts strain on profits
Internet casino 888 warned that the upcoming World Cup would actually be bad for its business, as its staple poker players are expected to be spending less time and money at the online poker tables and instead devote more energy to football. "Online gaming trading during the period of the World Cup will be difficult," said 888 CEO Gigi Levy as he announced the profit warning.
Levy also stated that profits for 888 in year 2010 would be "significantly lower than previous market expectations" of $45.5 million.
As for the current drop in poker business at 888, illegal online operators in America were blamed for eating into profits, though the numbers show that high-rollers visit the site less frequently than ever. Levy also blamed currency fluctuation for its financial woes, stating that $5 million in revenue had been lost in 2010 so far because of exchange rates: Though 888 does most business in euros and pounds sterling, revenue is reported in terms of U.S. dollars.
The (London) Express: 888's World Cup Fears
Online gaming company 888 Holdings issued a warning on profits yesterday in anticipation of casino gamers deserting the site to turn attention to the 2010 World Cup tournament: "Instead of staying in and using 888," said one 888 spokesman, "people are more likely to go down the pub and watch the football."
A pair of financial analysts offered harsh assessments of 888's current financial state. One unnamed analyst stated that "The potential for 888 to be acquired has diminished," while James Hollins of corporate advisory firm Daniel Stewart & Co. said that "888's weak poker offering and lack of significant sports offering has worked against it."