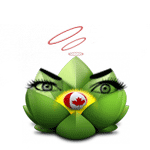 The state lottery groups of several Canadian provinces are joining forces to build what will eventually be a nation-wide mobile gambling platform offering casino-style games as well as internet poker. The system will use geo-location technology to make sure players are within the proper jurisdiction before they will be allowed to play.
Winnipeg Free Press: Provinces get in the game
Canadians spend an estimated $1 billion a year gambling on the internet and most of this money goes to offshore gambling sites. Recently, the provinces have been moving in to grab their share of this money.
Later this year, six Canadian provinces (British Columbia, Quebec and the four Atlantic provinces) intend to share a common online gambling platform that will offer online poker and internet casino games.
The Atlantic Lottery Corp. and the British Columbia Lottery Corp. have both been offering online gambling for several years, but so far, their internet gambling offerings only make up about 1% of their revenues. They expect this number to climb once they begin to offer the types of online casino games that players can currently only access through offshore gambling sites.
"We estimate that by the end of 2012/13, e-gaming revenue will be about 3.5 per cent of BCLC's overall revenue," a corporation spokeswoman said.
The Montreal Gazette: Gambling on the go
Loto-Québec, B.C. Lottery Corp. and Atlantic Lottery Corp. have announced a plan to launch a common online gambling platform this fall.
Bob Rybak, a consultant working with Atlantic Lottery, says the system will likely expand through the rest of Canada 18 months, as Western Lottery Corp. and Ontario Lottery and Gaming Corp. join in.
Canadian gamblers spent around $800 million gambling online in 2009, and according to Rybak,"the vast majority of that money going offshore."
Provinces want to funnel some of that money back into Canada, so lottery corporations have figured out a way to provide "a legal and credible" option to Canadian gamblers. The new platform will include casino-style gambling as well as an online poker network.
Rybak envisions players using mobile phones, laptops and lottery kiosk terminals to plug into a library of online casino games. It is a vision of "gambling-on-the-go". Wireless devices like the Apple iPad will even be added to the mix, says Rybak.
The system will use geo-location technology to make sure that only within approved jurisdictions can access the site. Other software will help determine the gambler's identity for age verification purposes.
Times Colonist: Nationwide platform to link gamblers on the go
B.C. Lottery Corp. is working to build a nationwide Canadian internet gambling platform that will give players access to online casino games and poker games through mobile devices such as cellphones and netbooks.
The platform will go live this fall, and will be launched in cooperation with Loto-Québec and Atlantic Lottery. Bob Rybak, a gambling consultant with Atlantic Lottery, expects the rest of Canada's provinces to join eventually.
Rybak stresses that public acceptance of a nationwide online gambling system will depend on the system's ability to ensure underage players cannot access the games.
Like their offshore competitors, Canada's online gambling groups will use geo-location software to make sure gamblers are within the proper jurisdictions before they will be allowed to sign up and play.