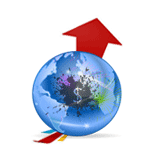 Though still affected by the slumping worldwide economy, Sportingbet representatives were recently quite happy to announce the sportsbook's profitable third-quarter results for the fiscal year. Key markets of Spain and Greece were unimpressive for Sportingbet, but a large influx from Australia proved to be the financial difference. The next year may be a bit difficult for the bookmaker, though, as new gambling laws in France are forcing the company's withdrawal from that market.
Interactive Investor: Australia drives Sportingbet Q3
For the third quarter of its fiscal year, Sportingbet reported net gaming revenue to be up 29.8 percent to £55.7 million. Total bets in the period ending in April increased 22 percent to £521 million (approximately $750 million) wagered.
"Given the widely reported economic difficulties in Spain and Greece, which are two of our biggest markets," said Sportingbet CEO Andrew McIver, "it is pleasing to report an 18 percent increase in profits." Sportingbet business in Greece increased 8 percent, while Spain was stagnant for the bookmaker.
Sportingbet shares, which earlier in the week had hit a nine-month low at 57.5p, had rebounded by 3.7 percent to 62.5p on the morning of the announcement of results, valuing the company at £307 million.
McIver cited the advantages of geographical diversification business, and added that the company's fourth quarter would be focused on the World Cup, repeating his comments of May that "much of how the remainder of this quarter performs will depend on the outcome of (the World Cup)."
In addressing next year's results, Sportingbet stated that it would no longer be accepting bets from French players in light of the new licensing regulations for offshore online casino owners there. Sportingbet will apply for licensing in France, but due to the time involved plus some permanent loss of revenue, fiscal year 2011 is expected to be down for Sportingbet.
Financial Times: Australian profits drive Sportingbet
Since the Australian market showed in 19 percent raise in gross amount wagered in the third quarter of the fiscal year, Sportingbet was able to report a 13 percent jump in pre-tax profits.
Australian wagering at Sportingbet increased from £153.2 million to £182.1 million. Reasons given for the profitable quarter in Australia included "horse racing results that favored the bookmaker" and liberalization of advertising regulations in the country.
Sportingbet also reported weak intake from Spain and Greece, two markets that make up about 33 percent of Sportingbet revenue. For comparison, the bookmaker draws about 5 percent of its business from the U.K.
Sportingbet representatives also reported that they anticipate a further increase in revenues in the fourth quarter because of World Cup betting. Betting on soccer makes up 61 percent of sportsbook activity at Sportingbet.
Stock Markets Review: Sportingbet report Strong Q3 for sports and casino
Sportingbet's fiscal results for quarter three were reported as strong, with net gaming revenue increasing 30 percent year-on-year (or 27 percent with exchange rate fluctuation taken into account). In addition to the excellent results in Australia, sports and casino growth in Europe was also called "strong."
For Sportingbet, European sportsbook activity increased 21 percent YoY to £29.1 million. Casino gaming was up 17 percent to £11.6 million, with particular good results for the Sportingbet flash casino. Poker gaming at Sportingbet was down 10 percent YoY to £4.5 million.
With regard to the French market, Sportingbet indicated that it expected to receive sports, horseracing and poker licenses in early 2011 and that the company had already entered into marketing partnerships to advertise in "Le Monde" and "L'Express" newspapers.