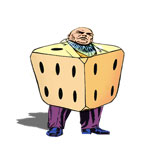 Nicodemo Scarfo, a man with alleged ties to the New York-based Lucchese crime family, was detained from his home Friday and taken into custody on charges of racketeering, money laundering, and gambling. Scarfo allegedly had ties with an illegal bookmaking ring that processed billions of dollars in bets through an online gambling site to a wire room in Costa Rica. His bail has been set, and his attorney expects he will be released soon.
The Philadelphia Inquirer: Scarfo's bail set at $350,000 in betting operation
Nicodemo Scarfo says he is an unemployed research analyst who did legal consulting work for attorneys. New Jersey state prosecutors paint a different picture, saying he is an organized crime involved in a $2 billion illegal online sports betting operation.
Theses contrasting biographies were drafted during yesterday's bail hearing in Morris County Superior Court before Judge Thomas Manahan, where bail was set at $350,000.
Scafro is a reputed member of the Lucchese crime family. He faces charges of racketeering, conspiracy, money-laundering and illegal gambling, all stemming from his alleged involvement in an online sports betting operation that funneled bets through a wire room in Costa Rica. Scarfo is just one of 34 reputed associates of the Lucchese family charged in the case.
Authorities watched the gambling ring for more than a year, in a probe they called "Operation Heat".
During the probe, they collected hundreds of secretly recorded conversations on wiretaps and other electronic listening devices.
NBC: Reputed former crime boss from Ventnor indicted by grand jury
The New Jersey State Attorney General's Office has announced that a grand jury indicted Nicodemo Scarfo Jr., 44, along with more than 30 other people with alleged ties to the New York-based Lucchese crime family.
Scarfo, said to be the head of the the New Jersey faction of the family, faces racketeering, conspiracy and gambling charges.
The indictment is the result of a long-term investigation called Operation Heat aimed at uncovering an international criminal gambling ring that dealt with several billion dollars in sports wagers over the internet.
According to records from the investigation, the gambling ring processed an estimated $2.2 billion in wagers in just over a year using a password-protected website that funneled bets to Costa Rica.
Attorney General Paula T. Dow said, "The Lucchese crime family allegedly employed sophisticated measures such as electronic record-keeping and offshore wire rooms designed to thwart detection of their illegal gambling activities by law enforcement."
"I'm proud to say that their innovations did not stop our investigators from infiltrating their criminal enterprise and obtaining the evidence needed to indict their alleged top leaders in both New York and New Jersey."
Press of Atlantic City: Bail on mob-related charges set for Nicodemo S. Scarfo
Nicodemo S. Scarfo, son of a former Atlantic City crime boss, may soon be released prison after his bail was set on Tuesday.
Superior Court Judge Thomas V. Manahan set his bail at $350,000 shortly after Scarfo was arrested last week on racketeering charges.
Scarfo, 44, was detained from his home on Friday after authorities announced his indictment relating to an illegal internet bookmaking operation.
Sarfo's attorney James Leonard called the scenario a "trumped-up book-making case" and expects his client to be released on bail soon.