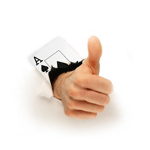 Faced with a growing budget deficit and rising unemployment rates, the great state of New Hampshire has joined the other states on the long list of those considering online gambling as a promising answer to financial problems.
Nashua Telegraph: Gambling would bring much needed jobs
There's been a lot of focus on the review of SB489, a bill to expand gambling in addition to adding slot machines and a resort casino in New Hampshire. Many New Hampshire workers are looking for the opportunity to show support for the bill, tell their stories and share the many positive outcomes that would result from this legislation being passed.
The construction industry is in shambles with an unemployment rate of 30%. Projects like those proposed in the bill would provide work for many throughout the state. A lot has been said about the social costs that the bill could create within our state and how it could impact lives. Missing from the debate are the social costs of prolonged unemployment.
This is why we must act now to support and implement expanded gambling. Passage would mean construction work unseen since the building of Seabrook Station, when over 70% of the industry had health and retirement benefits.
Thousands of construction workers could piece their lives back together, not with handouts from the state but with a good quality job. Workers look to their state elected leaders to support this extremely vital, job-creation bill.
The Boston Globe: NH gov considers legalizing online gambling
Though he opposes slot machines and casino-style gambling, Gov. John Lynch of New Hampshire may support legalization on internet gambling in order to close a growing budget deficit. The governor will unveil his plan for the state next week, and legalizing online gaming is among the ideas he's considering.
The House is debating a Senate-passed bill that allows up to 17,000 slots and casino-style games at six locations throughout the state. Lynch opposes the bill because he said it fails to prevent the proliferation of gambling.
Arguments against the new bill claim that it would proliferate gambling and wouldn't create jobs. A lawyer for the Hudson project, however, estimates it would create 3,800 jobs, including trick-down positions at restaurants and other businesses.
Bloomberg Business Week: NH legislators propose changes to gambling bill
New Hampshire legislators in the House are supporting a gambling bill which would cut the number of slots from the proposed 17,000 to 9,750 and offer them at five places instead of six. The House is considering a Senate-passed bill to expand gambling.
Under the proposed House changes, competing proposals for casinos would vie before a three-person tribunal to secure one site each in central and northern New Hampshire. The change is seen as a response to the owners of the New Hampshire Motor Speedway, who said they were left out of the original bill. Another proposed change would repeal the state's new 10 percent tax on gambling winnings.