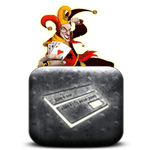 Trevor Zinck, the Nova Scotia legislature, allegedly used the credit card of a 40 year old man with cerebral palsy to play poker online, racking up a bill of almost $10,000. Scott Marshall had once given Zinck his card to loan him $100 back when Zinck was acting as Marshall's caregiver. It seems Zinck wrote down the card number to use later.
CBC News Canada: 'Be a man' on gambling debt, MLA urged
The mother of a Canadian disabled man is angry and frustrated that Independent MLA (Member of the Legislative Assembly) Trevor Zinck has not yet responded to recent allegation that he used her son's credit card to gamble online, still owing him $7,600.
"Own up to it and be a man," Helena MacLeod said towards Zinck.
"It seems like he has disappeared and that's it. We kind of thought that he would come across and say that he was going to pay Scott's credit card, but we haven't heard a word."
Scott Marshall, 40, has cerebral palsy. He has known Zinck for 20 years. Zinck acted as Marshall's caregiver prior to 2006, when he was leected an MLA for Dartmouth North.
Marshall says that in June 2007, he noticed $10,000 in charges on his credit card. Zinck had used the card to play online poker, without Marshall's permission.
Zinck has paid some of the money back, but MacLeod said the bill is still$7,600, and Marshall cannot afford to pay it.
"He gets in a very, very big panic to think that his credit is going to be down the tubes," MacLeod said.
Zinck was ousted from the New Democratic Party caucus in March because of problems with his constituency expenses. He also admitted to having problems with drinking and gambling.
The Chronicle Herald: Zinck accused of fraud
A man from Halifax, Canada, is accusing Dartmouth North MLA Trevor Zinck of fraudulently charging $9,000 on his credit card to play online poker.
Scott Marshall says his former caregiver and friend of 20 years hasn't paid much of it back.
"He said that he'd never leave me hanging . . . but I've had to hound him," Marshall said in a telephone interview.
Marshall suffers from cerebral palsy, and is confined to a wheelchair.
In the spring of 2007, Marshall let Zinck use his credit card when he asked to borrow $100. But when Marshall got his bill, Zinck had charged thousands of dollars to it.
Zinck promised to get a loan to pay his debit to Marshall, but later said that the bank denied his application.
The NDP removed Zinck from his caucus seat last week, citing irregularities with his handling of office expenses.
Toronto Sun: Man: N.S. politician used his credit card to gamble
A disabled man has accused a member of the Nova Scotia legislature of using his credit card to gamble online – without his permission.
Scott Marshall, who is wheelchair-bound because of cerebral palsy, says Trevor Zinck admitted to charging $10,000 from his credit card when Marshall's caregiver.
Zinck apologized and agreed to pay him back, but the payments stopped after Zinck was no longer his caregiver. The credit card bill stands at $7,600.
According to Helena MacLeod, Marshall's mother, Zinck always had an excuse not to pay.
When asked if Zinck admitted to online gambling, Marshall said, "Oh yea."
Zinck was recently suspended from the NDP caucus last week. He had been late in paying constituency office bills for electricity, telephone and internet.