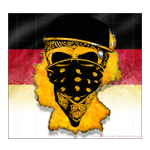 As if the European Poker Tour weren't exciting enough of an event, last week's was heavily intensified. Knowing that there was a lot of cash at stake, a group of thugs made a successful attempt at armed robbery in the ritzy Grand Hyatt Berlin.
The Star: Bandits play hand in poker tour
German police hunted for 4 bandits who stormed a poker tournament in Berlin and stole about $335,000 in cash in a brazen daylight heist on Monday. The armed men rushed into the European Poker Tour event at the Grand Hyatt Berlin. According to the Berlin police spokesman, Police are analyzing video footage of the crime, dusting for prints and talking to witnesses.
Surveillance footage outside the hotel caught one robber without his mask, but only from behind. At least 2 of the 4 men were armed, one with a machete and one with a revolver, he said.
Rainer Wendt, leader of a German police union, faulted organizers for not hiring enough guards.
The Sydney Morning Herald: Poker heist gang were stupid amateurs: police
An armed gang that staged a brazen heist on a $7 million Berlin poker championship can be regarded as amateurs and will be caught soon, according to the head of the German police. The masked gang of 4 burst into the Grand Hyatt hotel in central Berlin, wielding machetes and handguns and made off with 242,000 euro in cash, while leaving mountains of evidence.
Though there are still "no hot leads" on the robbers, a police spokeswoman said investigators are "confident" that the "relatively large amount of material" they are sifting through will soon result in hard evidence.
After five days, American online poker star Kevin "ImaLuckSac" MacPhee carried off the one million euro top prize. The competition's total prize pool was 4.7 million euro, according to the European Poker Tour, which organised the event.
BBC News: Robbers raid Berlin hotel poker tournament
Armed robbers have stormed a luxury hotel in central Berlin where a poker tournament was taking place. One report said the gang – armed with assault rifles and hand grenades – made off with the tournament jackpot of $1.1 million. There were injuries due to the ensuing panic but no one was seriously injured.
Four robbers entered from Potsdamer Platz while two others allegedly kept watch, according to Tageszeitung. Images of the chaotic scenes were broadcast by the private n-tv television station. Officials said most of the injuries were caused by panic.
The European Poker Tour (EPT) tournament – resumed about 4 hours after the attack, according to German media sources.