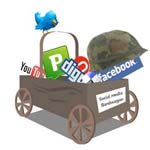 The US Defense Department has officially allowed the use of social networking sites by military personnel on government computers. The computers cannot, however, be used to access prohibited content, including pornography and internet gambling websites. The announcement was made on Friday via Twitter and Facebook.
CNN: U.S. military OKs use of online social media
U.S. military personnel are finally allowed to tweet, but online blackjack is still off-limits.
The Pentagon's new policy on military personnel using online social media was finally unveiled Friday. The new rules remove blocks on sites like Facebook, Twitter, and YouTube from all nonclassified government computers. These and other social networking sites can now be used as long as long as activity does not compromise national security.
The Pentagon announced the new policy via Facebook and Twitter.
The new policy also denies military personnel access to all websites promoting gambling, pornography or hate crimes. These cannot be accessed on nonclassified government computers for any reason.
According to David M. Wennergren, deputy assistant secretary of defense for information management and technology, the new policy "not only promotes information sharing across organizational boundaries and with mission partners, but also enables deployed troops to maintain contact with their loved ones at home."
BBC News: Twitter and Facebook access for US troops
US troops are now allowed to use social networking websites such as Facebook and Twitter following a statement by the Department of Defense. The benefits of using social media, they say, now outweigh the security risks involved.
Now several sites previously blocked by the Pentagon – including YouTube – will be unblocked. Operators reserve the right to re-institute the blocks temporarily if the need arises to safeguard missions or save bandwidth.
US Defence Secretary Robert Gates says social networking can help the Pentagon interact with US military employees.
"We need to take advantage of these capabilities that are out there – this Web 2.0 phenomena," said David Wennergren, deputy assistant secretary of defence for information technology.
"There are two imperatives. One is the ability to share information. The other is about security – we need to be good at both," he said.
US Department of Defense: DOD Releases Policy for Responsible and Effective Use of Internet-Based Capabilities
On Friday, the United States Department of Defense (DoD) released a statement outlining the "safe and effective use" of the internet by military personnel using official equipment. The statement covers the use of social networking services and other interactive internet applications.
Use of social networking sites has become an important tool for communicating across the DoD and with the general public. Establishing a DoD-wide policy will allow for full integration of these tools and capabilities.
According to the memorandum, only the DoD non-classified network will be effected. Commanders will continue to defend against malicious activity and must deny access to prohibited content (includeing gambling and pornography), and must take immediate to safeguard missions.
"This directive recognizes the importance of balancing appropriate security measures while maximizing the capabilities afforded by 21st Century Internet tools," said Deputy Secretary of Defense William J. Lynn III.