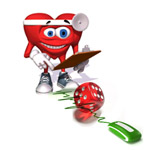 Loto-Québec recently announced plans to move their operations online, and hopes to have an internet gambling website up and running by the end of the year. Public health officials are up in arms about the idea, insisting that online gambling presents a significant health risk to Canadians. A coalition of anti-gambling doctors have called for a one-year moratorium on the internet gambling plans while they talk about the potential health risks it produces.
Montreal Gazette: Let's pass on online gambling, MDs say
Backed by the Canadian government, Loto-Québec announced Feb. 3 that it will launch an internet gambling website by the end of the year. Their intention of is to compete with the thousands of foreign-based internet gambling sites that already target Canadian players. The company hopes to divert $50 million a year in gambling revenues into back into the country.
Public health directors are against the plan, along with the country's association of addiction rehabilitation centers who called the plan a recipe for disaster.
Richard Lessard, director of Montreal's public health department, asks: "Should we really be accelerating the development of online gambling or slowing it down?" Lessard called for a one-year moratorium on the launch of this and all similar gambling sites.
"There are not just economic benefits to be had, but negative impacts that have not been properly accounted for. We are convinced that by creating a legal secure site, we will create new players. You don't have to be a marketing expert to see that."
The doctors who are speaking out against online gambling in Canada want the government to set up a committee of experts, which they say should include people from the ministries of justice and public safety, to explore the implications of online gambling and figure out how to deal with its negative impacts.
According to the Institute national de santé publique, almost five per cent of the Canadian population is classified as a "problem gambler".
CBC News: Loto-Québec online site a health risk
Public health officials across the Canadian province of Quebec asked lawmakers on Thursday to reconsider their plan to introduce online gambling.
Loto-Québec is expected to launch its online gambling site in September. The lottery corporation has estimated that the venture will bring in more than $50 million in revenue by 2013.
The corporation also hopes that the new gambling site would work to subdue the 2,000 gambling sites already online, many of which operate illegally and are unregulated by the province.
Health officials, however, are concerned that online gambling presents a severe health risk. Dr. Richard Lessard, Montreal's public health director, believes it is much easier for a person to become addicted to gambling if they play on the internet.
"It's too soon to go online," Lessard said. "We think there should be a moratorium on the implementation of online gambling, and during that one year or more period, we think there should be an expert committee to analyze the impact on health in particular."
The financial benefits of online gambling are overshadowed by the negative impact that gambling has on health, he said.
CJAD Radio Canada: Minister says public health officials are wrong
Minister Raymond Bachand is not out to fight the Quebec's public health officials, but he certainly disagrees with them.
"We respect their opinion," he insists, but he does not agree with public health director's request to put Loto-Quebec's upcoming internet gambling project on hold while a committee studies its effects on society.
Quebec's public health directors say that some dissenters might be underestimating the social impact that online gambling has.
Minister Raymond Bachand admits that some Canadians suffer from gambling addictions, but insists that it's less than one percent. Instead, Bachand focuses on the amount of gambling that's already online. "There's a world-wide phenomenon," he says, "but it's not by putting our heads in the sand and allowing only illegal sites to operate in which anybody can go and play that we're going to solve the problem."
The province stands to earn $50 million through online gambling over the next three years.