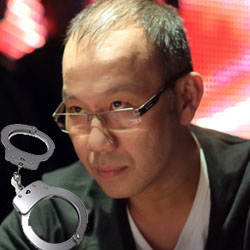 Las Vegas is America's gambling mecca and one of the few places where casinos and sportsbooks can legally accept wagers on sporting events. Where many people see a saturated market, however, Malaysian businessman Paul Phua Wei-seng saw an opportunity.
Several news sources have reported that the 50-year old man, his 22-year old son and several others set up an illegal betting ring in three hotel rooms at the Caesar's Palace in Las Vegas. On July 15th Phua and the others were caught and arrested, with the Malaysian's bail set at a whopping $2 million.
What were they taking bets on? The World Cup 2014 in Brazil. And the series of arrests came just weeks after the authorities in Hong Kong broke up a multi-million World Cup betting ring based there. That ring was run by, guess who? None other than Paul Phua Wei-seng.
Associated Press: Malaysian Businessman Wei Seng Phua Released on $2 million Bond After Illegal Betting Arrest
Malaysian businessman and high-roller poker player Wei Seng Phua was released from jail in the US on July 28th after some fellow poker players posted his $2 million bond as well as the $500,000 set for his son. This is the latest gambling news in a month-long saga concerning the underworld figure.
Poker professionals Andrew Robl and 10-time World Series of Poker Champion Phil Ivey reportedly put together the $2.5 million to bail out the Phuas, which had been arrested (along with eight others) for running an illegal sportsbetting operation out of their Las Vegas hotel room.
U.S. Immigration and Customs Enforcement officials agreed to release him after bail was posted and they reviewed the case, finding that requirements had been met for release.
Daily Telegraph: 8 People Arrested by Federal Officials for Running Illegal Gambling Operation in Vega Hotel
Eight people from Malaysia, China and Hong Kong have been accused of running an illegal betting operation out of three Las Vegas hotel rooms. The group reportedly took millions of dollars in bets on World Cup matches.
The FBI and Nevada Gaming Control Board agents made arrests on July 13th after raiding three suites at the Caesar's Palace in Las Vegas.
US attorney general Daniel Bogden told reporters that the Phua had opened up shop in Vegas after being arrested on June 18th for running an illegal gambling operation in Hong Kong. After posting bond there he flew to the US.
Casino employees alerted the authorities after growing suspicious about being asked to set up computer equipment in the three hotel rooms. If convicted, Phua and the others could each face up to two years in prison and fines of up to $250,000.
South China Morning Post: Malaysian Businessman Arrested in the US is an Alleged Member of Hong Kong Triads
Online gambling entrepreneur and reported member of the 14k Triads Paul Phua Wei-seng was arrested in Las Vegas on July 13th for running a World Cup betting ring out of a Las Vegas hotel room in violation of American gambling laws. The 50-year old Malaysian was one of eight people arrested, including three from Hong Kong.
Legal documents released by the FBI claimed that Phua is a high ranking member of the 14k Triads, one of Hong Kong's oldest and most powerful criminal organizations.
He is also one of the key executives of IBCBet, which is arguably the world's largest sportsbetting operator. A study by the International Centre for Sport Security in Qatar estimated that roughly 80 percent of wagers made on the 2014 World Cup in Brazil were done so illegally.
CBS Las Vegas: Phua Still Not Released from Jail Despite $2 million of Phil Ivey's Money
Lawyers representing Malaysian businessman Phua Wei-seng demanded that he be released after his $2 million bail was posted by a group of professional poker players, including 100-time World Series of Poker Champion Phil Ivey.
As of July 28th Phua still sat in jail despite his bail being met; authorities had not yet released him due their ongoing review of the case details. Phua lawyer David Chesnoff told the Las Vegas Review-Journal:
Our clients have complied with every condition set by a federal judge for their release…We have repeatedly attempted to contact ICE authorities, who have not responded. We are going to take further legal steps.
Phua and his 22-year old son are among eight people arrested and held for allegedly running a million-dollar illegal betting ring out of Caesar's Palace in Las Vegas, taking wagers on the 2014 World Cup in Brazil.
South China Morning Post: Arrested Illegal Betting Operator Phua Once Served as Ambassador to Montenegro
Macau gambling kingpin, big-money casino winner and alleged Hong Kong triad leader Paul Phua Wei-seng served as San Marino's ambassador to Montenegro for three years before being arrested in Las Vegas on July 13th for allegedly running an illegal World Cup betting ring.
The businessman and high-stakes poker player was appointed the diplomatic representative of the tiny European microstate in 2011, obtaining a diplomatic passport which allowed him to move freely throughout most countries around the globe.
Upon his appointment San Marinese foreign minister Antonella Mularoni expressed the idea that Phua could use his connections in the entertainment industry to bring a luxury hotel development project to San Marino.
He is also reported to be a major shareholder in IBCBET, a world-leading online betting operator based in the Philippines. After his arrest authorities in San Marino revoked his status and asked him to return his diplomatic passport.