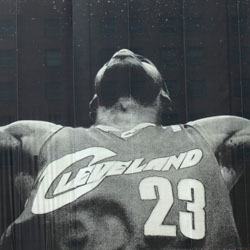 USA Today Sports: Vegas says LeBron's return makes Cavaliers NBA title favorites
Since announcing his return to the Cavaliers, speculators and basketball experts have been throwing around the high possibility of them winning the championship in the following season.
Gambling news reports that a single hour after LeBron made his intentions public, the Ohio based team were ranked as 4/1 favorites for the NBA title. They were ahead of teams like San Antonio Spurs (5/1) and Oklahoma City Thunder (6/1).
Looking back some time before King James returned home, at the beginning of the offseason the Cavs were on the opposite end of the spectrum in term of title success. Bookmakers gave them odds of 60/1 of achieving glory in the 2014-2015 season. However, as speculation about the star player's return grew over time so did their chances.
Their first improved odds stood at 50/1, and then jumped to 30/1, before eventually leapfrogging to 10/1 earlier in the week. Cavaliers' odds were fourth best in the league, only behind Oklahoma City, San Antonio and Miami Heat.
Although the possibility of LeBron leaving Miami increased the Cavs' odds, in the initial stages the South Florida team didn't experience any changes in terms of their chances of success in the next season. They were hailed as favorite for the next season, although after the news confirmed about LeBron departure, their odds went down substantially.
Heat's NBA title hopes for the next season stand at around 50/1, which caused many people to liken the sudden turn in championship odds to a Las Vegas stock crash. The Miami team currently has worse odds than New York Knicks, Brooklyn Nets and Toronto Raptors. Heat stands on par with Memphis Grizzlies and New Orleans Pelicans.
Cleveland.com: With LeBron James returning, Cleveland Cavaliers have the best odds of winning NBA title, according to Las Vegas oddsmakers
The Cavaliers went from outsiders to serious contenders for the NBA title in a matter of weeks. Las Vegas bookies believe that the Cavs can make a serious impact in the competition this year, as their star player has returned to his roots giving them a massive boost.
Although San Antonio Spurs have managed to win the NBA this year, their chances of achieving consecutive titles have been trumped with the LeBron returning to the Cavs. The Texas-based team have been assigned odds of 5/1, making them second favorites behind the team that now boasts the league most dominating player.
Betting providers were predicting that there would a significant shift in the future betting preferences on the Cavs, as they were 80/1 outsiders a little over a week ago. Now, they command the greatest odds for the following season. Oklahoma City Thunder (6/1) and Chicago Bulls (7/1) are the other favorites to lift the NBA trophy next year.
Latest gambling news indicated that odds started changing two weeks ago, as more and more news started to circulate about LeBron's possible move back to the team where he started his illustrious career. MGM Resorts gave the Cavaliers 20/1 odds on Monday morning, but quickly altered their chances all the way down to 8/1 by Wednesday.
nj.com: 2014 NBA Championshi[ Odds: LeBron James makes Cleveland the favorites
The Cleveland Cavaliers went from being one of the least promising teams to number one favorites virtually overnight, according to Las Vegas oddsmakers. The team hailing from Ohio will be severely tested once the season commences, as the public will then be able to judge if King James can carry the team on his own.
Despite having one of the most talented players of all time in their ranks, the Cavs are nevertheless outsiders for the title next season, as LeBron believes there is much to improve with the squad. He assured the fans that he will try his best, but currently does not have high hopes for title success.
"I'm not promising a championship. I know how hard that is to deliver. We're not ready right now. No way. Of course, I want to win next year, but I'm realistic. It will be a long process, much longer than it was in 2010. My patience will get tested. I know that."
He also added that he is looking forward in helping mound the team that could possibly have the capability to win the trophy that has long eluded them. "I'm going into a situation with a young team and a new coach. I will be the old head. But I get a thrill out of bringing a group together and helping them reach a place they didn't know they could go."
International Business Times: NBA Betting Odds: Cleveland Cavs Favored To Win 2014-2015 Championship With LeBron
The 2014-2015 season is looking to be an exciting one for the NBA, and especially for Cavaliers fans. With LeBron back to his old town, he will be tasked with shouldering the responsibility and leading a team to NBA glory. Luckily, Las Vegas sportsbooks have expressed support for their ambitions as they favor the Cavs to win the championship.
Although the Cleveland team ranked poorly in terms of their chances of success, many bookmakers immediately changed their odds once LeBron announced his intention to return. Betting providers believe James has the ability to transform a team that managed to record merely 33 wins throughout the whole 2013-2014 season.
When LeBron decided to switch teams in 2010 in search of major titles, the Cavaliers endured a horrible spell without him during the past four years. According to sports scores news, in the first season without their star man Cavs could barely manage to win 19 games. The next three years after that, they achieved only 78 win and not a single playoff appearance.
However, now the future seems far brighter for them than before. Although LeBron's presence alone can inspire the team to success, the Cavs have assembled a solid team that can challenge for the NBA title.
The Ohio-based team have drafted a talented point guard Kyrie Irving on a five-year deal, following his success last season with 20.8 points and 6.1 assists. Additionally, they also had the first overall pick drafting Andrew Wiggins in June, while also adding Anthony Bennett in the 2013 draft.
Without LeBron, Miami's chances of reaching the finals in the next season are limited. Las Vegas Bookies have given Miami odds of 50/1, considering that Chris Bosh is also likely to leave imminently for Houston Rockets on a max contract.