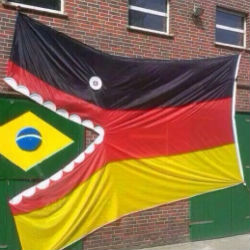 The Washington Post: 2014 World Cup: Germany overwhelms shorthanded Brazil in semifinal, 7-1
World Cup semi-final stage is where the remaining best teams meet. Two of them qualify for the final, while the losers face one another in a fight for the third place. For the past three World Cups, the German side has managed to secure two bronze medals and one silver medal. They are truly a team to be reckoned with, as they always have a plethora of gifted players.
Many believed that the host nation had reasonable chances of proceeding to the final, however no one was prepared for what Germany were about to do to the five-time world champions. The semi-final against Brazil shocked millions across the globe, as they witnessed something unbelievable. Germany demolished the South Americans a staggering 7-1.
An entire nation was on its knees, crying and waiting for it for be over before the Europeans had another shot on goal. However, there are certain reasons as to why they succumbed to such a horrible defeat. Brazil had to cope with playing without star striker Neymar, while one of the world's best defenders, Thiago Silva, was suspended for the match.
Gambling news reports that Brazilian captain David Luiz tried to put on a brave face, but was barely able to hold back tears for experiencing what many would consider football humiliation. Brazil was under severe pressure to win the esteemed trophy, which might have back-fired during the match and eventually saw them put on a disastrous performance.
abcNEWS: 2014 FIFA World Cup: Germany Defeats Brazil 7-1, Reaches Final
Germany scored the opening goals of the match in the 11th minute with Thomas Muller being the finisher. After that in a span of a mere 6 minutes four more goals went in the back of the Brazilian net with rapid succession, as if the hosts had no goalkeeper. Miroslav Klose scored in the 23rd, while Kroos added two more in the 24th and 26th minute followed by Khedira's strike in the 29th. After that barrage, all hopes of Brazil reaching the final were shattered.
Germany striker Klose set a new World Cup record. At 36 years old he still has a clinical finish, as he managed to score the second goal of the game. This put him on the pedestal for scoring the most goals in World Cup competitions.
As if sinking Brazil with 7 at the back of the net wasn't enough, the German forward dethroned the great Ronaldo who had 15 goals in the competition. Klose is now the player to beat as he commands 16 goals to his name.
YahooNEWS: World Cup 2014: Biggest shocks in history after Germany beats Brazil 7-1
The 7-1 result also marks Brazil's greatest loss in history. Before that, the only other memorable severe loss came at the hands of Uruguay in the 1920 Copa America, when they were beaten 6-0.
Undoubtedly, the match will go down in history alongside other games that sent shockwaves throughout the world. When Brazil hosted the World Cup for the first time in 1950, they were also deemed tournament favorites, but had to settle for e second place finish as mighty Uruguay defeated them 2-1 on home soil.
The match is commonly referred to as "Maracanazo" which translates into the "The Blow of Maracana," the stadium that they played at in the final. The game still remains as a painful memory for many Brazilians today. A sports score that they have never gotten over.
Perhaps the game between Netherlands and Spain can be matched as the other most shocking result at this year's competition. The Dutch took their revenge on the Spaniards, as they previously lost a final against them in the last World Cup in 2010. Spain were punished with a massive 5 goals, while the defending champions managed only one goal in the opening game.
A similar thing happened with Argentina in the 1990 World Cup in Italy, when they were stunned with a 1-0 loss to Cameroon in their first game. Before that, in 1986 Argentina were crowned champions and no one anticipated Cameroon to pull off a surprise.
France experienced the same situation when they were held by Senegal to a 1-0 defeat in 2002. Four years prior they celebrated lifting their first World Cup trophy in their homeland, however they couldn't replicate the same performance as before.
Independent.ie: One Paddy Power punter correctly predicted 7-1 obliteration in Brazil-Germany semi
It seems as if nobody could have foreseen such a catastrophe occur for Brazil. Experienced punters would have placed safer bets on game like this, however there was one man that didn't practice the conventional betting system.
Online gambling news state that a punter in the UK made an astonishing bet by wagering on predicting the correct score of the match. The odds were heavily stacked against his prediction with Paddy Power offering 500/1 for that particular bet. As is turned out he was, scooping a massive reward that resulted in a profit of GBP 3,500 for that wager.
Paddy Power also states that some other lucky bettors predicted Brazil would lose 5-0 by half-time, which secured them a handsome 4-figure sum. The bookmaker's spokesperson said, "It was nice that the rest of the Brazil team decided to miss the match in tribute to Neymar and Silva – but in reflection they'll probably realize it kind of backfired."
sportskeeda: FIFA World Cup: Fans betting correctly on Germany's 7-1 win over Brazil make a fortune
There were also more astonishing bets made on the game that will forever be remembered as the demise of Brazil. One betting player managed to win a fortune with his audacious bet. He scored over $46,000 on a mere wager of $20, which is an astonishing return on investment.
Additionally, a Brazilian native didn't seem to support her country for the win, but trusted her husband's instinct when she placed a meagre 10 Brazilian Reals on predicting the score. She only managed to win 200 Reals but the story behind the bet is astonishing. Her husband reportedly told her the result of the match while sleepwalking through their house.
This year's World Cup has been a bonanza for some lucky players. A Spanish bettor won $135,000 worth of gas for placing a bet against his native country when they faced Holland in the first match of their group.
Had Brazil lost out on penalties or by a very small goal margin, then the story would have been different. Nevertheless, hearts would have still been broken but the overall sentiment would have played out differently. Losing by a massive 6 goal difference on their own land is something no team ever wants to go through. Regaining confidence after that is difficult.