: Use of undefined constant renderBlock - assumed 'renderBlock' (this will throw an Error in a future version of PHP) in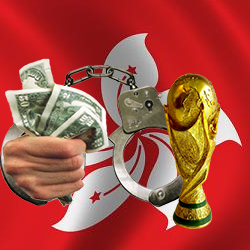 Despite the fact that both FIFA and gambling authorities across the world warned that they would intensify efforts to combat betting corruption, illegal wagers on World Cup sports scores proved to be too tempting for leaders of underground gambling rings.
The football event of the year has barely started, but the police in Macau already arrested a few punters from Hong Kong after evidence suggested they had placed HK $5 billion in illegal bets, including one staggering wager worth HK $40 million on a single match.
The illegal gambling operation was run from a hotel in Macau, which was raided by the local police. Officers found and removed betting slips and accounts, as well as more than HK $2 million in cash, 17 computers and 10 mobile phones.
Since the beginning of the 2014 World Cup in Brazil, Hong Kong police officers have also arrested 39 people suspected of unlawful gambling. HK $85 million worth of betting slips were confiscated from the illegal bookmakers.
South China Morning Post: Macau police smash illegal betting ring that took HK$5b in World Cup wagers
The Macau police busted a huge bookmaking operation. It is said that the illegal betting ring took a total of HK $5 billion in World Cup wagers, from rich clients around the world. Punters placed their bets on live sports results via telephone or online.
A raid on a local hotel found that three rooms had been turned into an operation base for the illegal betting syndicate. According to the latest gambling news, 22 people (including two women) aged 23 to 50 were arrested. Among them were four men from Hong Kong, nine Malaysians and nine mainlanders. The ring was lead by two men, one from Malaysia and one from the mainland.
One day later, the police conducted a second raid and arrested four new suspects at the same hotel. Officers are now conducting further investigations to find out who was placing the bets.
Suen Kam-fai, a spokesman for the local police, told reporters: "Information indicates that this syndicate accepted bets before and after the matches kicked off. That's why they needed a lot of manpower to take bets via the internet and telephone."
CNN: Macau busts $645 million World Cup betting ring
Police have smashed a gambling ring operating from a hotel located in Macau. The illegal betting syndicate allegedly took the equivalent of US $645 million in World Cup wagers. According to local authorities, this was the biggest ever raid on an unlawful bookmaking racket in the Asian casino capital.
Working from three hotel rooms, the suspects took internet and phone bets from around the world. Authorities discovered that one gambler placed a wager valued at around US $5 million.
The police arrested 22 people from mainland China, Hong Kong and Malaysia, including two suspects believed to be the ringleaders. They also confiscated US $248,000 in cash, 17 computers, at least 10 cell phones and several betting slips.
A few hours later, the police busted a second gambling operating from the same hotel. Four Chinese men allegedly took US$645,000 in illegal bets on World Cup matches in one day.
The raids were part of a cross-border campaign to combat illegal sports betting in Macau, Hong Kong and the southern province of Guangdong, China.
The Guardian: Police bust gambling racket in Macau after huge World Cup bets
A bookmaking racket that allegedly took HK $5 billion ($645 million, or GBP 379 million) in illegal bets was recently uncovered by the police in Macau. The illicit football syndicate operated from a local hotel and allowed punters from all over the world to place World Cup wagers online and via telephone, the South China Morning Post said.
Police have arrested 22 suspects in what is thought to be the biggest unlawful football betting operation in Macau, as initial investigations found evidence of HK $5 billion worth of World Cup wagers, including a single HK$40 million bet on one match.
Since the beginning of the 2014 World Cup, authorities in Macau, Hong Kong and the Guangdong province have been working together in a campaign to put an end to illegal gambling operations. Investigators seized more than HK $2 million in cash, 17 computers, more than 10 mobile phones and betting slips.
During the first week of the World Cup, authorities in the area have arrested 39 people suspected of being involved in illegal betting operations and confiscated HK $85 million worth of betting slips.