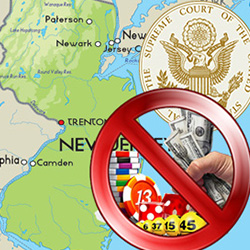 New Jersey has once again been dealt a blow as the Supreme Court reached a verdict to keep the ban sport gambling in the Eastern state. There have been numerous attempts to revert the bill prohibiting bets on sports, however all have been futile so far.
Nevertheless, there is still hope. Important statesmen from New Jersey remain confident in their battle, as a new bill that is due to be published bears a more promising effect than previous attempts.
Bloomberg: New Jersey Sports Betting Bid rejected by Supreme Court
Latest gambling news states that New Jersey's quest to legalize sports gambling has been dampened. Despite tabling an appeal, Governor Chris Christie was not able sway the US Supreme Court. The Court claimed that New Jersey sports gambling pursuit came in conflict with a 1992 federal law that was passed to prevent the expansion of state-lead sports betting.
New Jersey aimed to make betting on professional and college sports legal, by offering to provide the services through the state's racetracks and Atlantic City casinos. It is evident why prominent officials from the state supported the proposed change. Estimates show that the business would generate over $1 billion in bets and more than $100 million for the state.
White House representatives contested the action pointing to the National Collegiate Athletic Association, National Basketball Association, National Hockey League, National Football League and Major League Baseball.
They indicated that the 1992 Professional and Amateur Sports Protection Act allows sports gambling only in Nevada, while Delaware maintains a sports betting to lesser degree. Governor Christie highlighted that the federal law does not enable New Jersey to exercise its sovereign rights. Virtually all New Jersey residents voted in favor of sports betting in 2011.
NorthJersey: N.J. officials vow to change state law to permit sports betting
So far the state has spent over $3 million in research and legal expenses to see sports betting become a reality, however nothing has come to fruition due to the Supreme Court's rejection. The overall process lasted for two years and saw the state lose on two occasions.
A US District Court judge supported the views of the NFL and four other sports organizations, and decided not to reverse the original ban. Governor Christie expressed his disappointed and acknowledged that New Jersey's chances were slim. "They don't give an explanation, so there is nothing to really react to. They said no, so we have to move on."
Sports scores news reports that some other state officials remain adamant in legalizing sport gambling in New Jersey. Senate President Stephen Sweeney stated, "We are not giving up. The economic impact that sports wagering can have on New Jersey is far too important to simply shrug our shoulders and move on."
Many like-minded people believe that this has the potential to help New Jersey's fading horseracing and Atlantic City gambling industry. Sports betting would help the ailing economy in many terms and raise millions of dollars in taxes for the treasury.
CBS New York: Supreme Court Leaves In Place a Ban on Sports Betting in NJ
Despite recently losing a legal battle against the Supreme Court to legalize sports gambling, a New Jersey official brought up the idea of a revised bill that would see them achieve their goal.
New Jersey lawmakers submitted a case arguing that illegal betting on sports is valued at over $500 billion per year. Overturning the gambling law would create an opposite effect and lead to better standards. Legalization would see illegal gambling activities subsided, while in the same time generate income for the government and create employment opportunities.
The revised bill should see New Jersey challenge the law prohibiting them from offering sports betting services to players.
State Senator Raymond Lesniak hopes that US Department of Justice will not fight their reinvigorated attempts. "Aren't they selling marijuana in Colorado and Washington? Isn't that against federal law? Nothing stops is from repealing all our gambling laws on sports betting as long as we don't regulate it, as long as we don't promote it."
Unlike other officials who seem to have given up on hopes to legalize sports betting, Lesniak is determined to succeed. He stated that is the Supreme Court does not accept the new case, then he would proceed with plans to offer sports gambling as soon as Week 1 of the NFL season. "I'm not saying "one day." I'm saying September. "