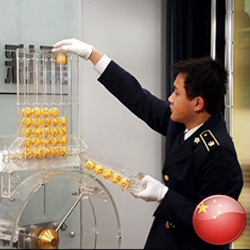 Without fancy marketing campaigns or gambling bonuses, the national lottery manages to be a huge success in China. Over the past few years, the lottery market – especially the sports lottery – has been experiencing a steady growth.Today, the industry is worth more than $480 billion and now experts say its value could increase even more as players will rush to place bets on the 2014 FIFA World Cup. The sports betting market is already a very lucrative one, but the major football event could boost profits by $13.5 billion to $16.2 billion, analysts say.
Want China Times: World Cup boosts China's already blooming sports lottery
Most popular forms of gambling are forbidden in China, but the national lottery made its debut in 2009 to allow local players to bet on football and basketball sports scores. Since then, football has proved to be especially popular and profitable. The fact that the Chinese lottery offers both better chances of winning and bigger prizes helped business flourish.
In 2010, during the World Cup in South Africa, the football prediction lottery alone sold $10 billion, marking a growth of 120% compared to the same period in 2009. In fact, this amount came very close to the total lottery sales made in 2009.
The lottery industry makes more than $480 billion. Most of it comes from brick-and-mortar businesses, but the internet sports lottery also contributes with an impressive $67 billion, with 14 billion coming from mobile platforms. According to Su Guojing, who founded Chin Sports Lottery, such periodic sports events boost sales by about 25%-30%.
Inside World Football: World Cup gives China Sports Lottery a big boost
China's blooming sports lottery is expecting further growth over the coming month, due to the World Cup which could increase revenues by $13.5 billion to $16.2 billion. The country offers few options for gamblers, but sports betting is very popular among locals. Betting on Chinese lottery results is also profitable for players, as both their chances of winning and the prizes offered are higher than usual.
In 2013, sales reached an impressive $494 billion, with $67 billion of all wagers being placed over the internet and via mobile devices. Su Guojing, founder of China Sports Lottery, believes this year's World Cup could boost lottery ticket sales by 25% to 30%.
The Ministry of Finance, which oversees the legal lottery business, has recently reported a 12.6% increase in lottery sales in May. The welfare lottery made 16.2% more sales over the last month, while sports lottery sales went up 8.2%. The first five months of 2014 brought a 13.9% increase in sales. The online lottery industry is also on the rise, with sales going up nearly 63%.
People Daily: Chinese lotteries to score during World Cup
The sports lottery sector is in for a big sales surge around the 2014 FIFA World Cup. During the 2010 soccer event, lottery sales in China hit four billion yuan ($648 million), increasing by 500% year-on-year and 400% compared to the previous month.
Records show more than 600 million Chinese residents now have access to the Internet. The online lottery business has flourished over the past few years and revenues keep going up, especially during major sports events.
An executive of 500, the New York-listed Chinese lottery service provider, told reporters: "We estimate that the World Cup will boost our sales of Internet-based sports lotteries by at least 70 percent."
Huatai Securities is even more optimistic, predicting an increase of 150% in online sports lottery sales of sports lotteries.
Investors are becoming interested in the growing Chinese lottery market and companies are now seeking niches – including physical stores, online service and mobile Internet service – to help increase their profits.
Big companies are looking to improve their marketing strategies to attract more players and 500 is even offering a jackpot of 100 million yuan for players who successfully predict the results of all 63 World Cup matches.
China Daily: World Cup boosts Chinese sports lottery sales
According to the China Sports Lottery Administration Center, this year's edition of the World Cup has helped boost the national sports lottery sales. Daily sales have gone up from less than 100 million yuan to more than 400 million yuan since the event started on June 12.
Local gambling news report China's leading online lottery agent 500 is making roughly three to five times more sales than the daily average. However, it is common for profits to increase during important international sports events.
Official data shows total lottery sales, including welfare and sports, are up by 18.3% on a year-to-year basis, coming close to 310 billion yuan in 2013. Sales made online reached 42 billion yuan last year, accounting for 13.58% of the total amount.