The latest transfer rumours in connection with Bayern Munich's future changes expect a new striker for the Bavarian side.
It has been officially announced at online gambling news that Pep Guardiola will leave FC Bayern Munich at the end of this season and Carlo Ancelotti will take over his place. This piece of information has given source to many of the latest transfer rumours, such as Lewandowski might be leaving FC Bayern. However, the team is said to already have found his replacement. Let's check out the latest football transfer news now!
Goal: OFFICIAL: Ancelotti to replace Guardiola at Bayern
Goal reported that Carlo Ancelotti has been officially named as the replacement for Pep Guardiola, with whom Bayern Munich has dominated German football ever since his arrival in 2013. He won several cups including 2 Bundesliga titles, one German Cup, the UEFA Super Cup and the Fifa Club World Cup trophy.
However, his contract with the Bavarian side is coming to an end as soon as this season finishes. Karl-Heinz Rummenigge, Bayern Munich's Chief Executive Officer, has announced that Guardiola's contract will not be renewed and will be replaced by the Italian manager, starting from next season.
Rummenigge did not fail to praise both managers as his team can proud to be working together with the best managers in the world. He highlighted the successful years that Guardiola has been achieving in Bayern, and have praised the amazing experience that Ancelotti has as a manager.
Daily Mail: Carlo Ancelotti 'ready to stand in the way of Real Madrid's pursuit of Bayern Munich ace Robert Lewandowski
Meanwhile, Daily Mail reports that Carlo Ancelotti has already started planning his new project at the helm of Bayern Munich. According to gambling news in Germany, the Italian wants to give key responsibilities to Robert Lewandowski, Bayern Munich's 27-year-old striker.
The Polish forward however, has been linked to Real Madrid on several occasions ever since the season has started. Cristiano Ronaldo is going to leave Real Madrid at the end of the season according to the latest transfer rumours, and Florentino Pérez wants to replace him with a top class striker. His choice would be Robert Lewandowski.
However, Ancelotti has signed for Bayern Munich based on several conditions. One of those was that Bayern Munich will be able keep the world-class striker in the team. Ancelotti believes Lewandowski and Douglas Costa are the main people in the attacking third of his new Bayern Munich.
Nevertheless, the Italian manager can worry about his previous team crossing his plans. Lewandowski's agent, Cezary Kucharski, has been spotted at the Bernabéu stadium at the Real Madrid vs Getafe game and latest transfer rumours indicate he was negotiating about the possible move of his customer. Lewandowski told AS that he would prefer not commenting the rumours in connection with his future.
AS: El Bayern ya tiene alternativa a Lewandowski: Gonzalo Higuaín
On the other hand, AS reported that Carlo Ancelotti is not a man without a plan. Even if Real Madrid would manage to capture his number 9, he would not have to be overly dramatic since he is said to already have found the perfect replacement for the Polish striker.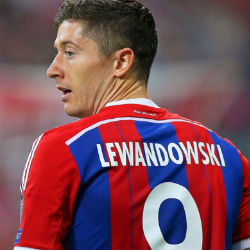 Ancelotti is said to be interested in Napoli's striker, Gonzalo Higuaín, who has been playing in superb form so far this season. Should Los Blancos purchase Lewandowski, Bayern would try to buy the former-Galactico, who has scored 16 goals in 17 games in this season at the Italian team.
According to the latest gambling news, Gonzalo Higuaín seems very similar to Robert Lewandowski in regards of style and abilities. The Argentine's contract expires in 2018, however there is a buy-out clause in his contract: whoever wants to purchase him, the team will have to pay EUR 94 million.