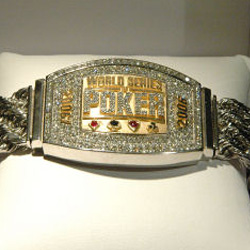 Until July 14, the 2014 World Series of Poker will be the main attraction in Las Vegas. All eyes are on the world's best poker players, as they battle it out for poker's most coveted bracelets. This year's edition of the tournament is already proving to be the largest ever, with the senior's event drawing a record number of players.With more than 4,400 players joining the game, the total prize pool added up to almost $4 million. Dan Heimiller managed to make his way to the top, winning his second bracelet and a prize of $627,462. Read more about the 2014 WSOP here:
CardPlayer: Dan Heimiller Wins World Series of Poker Seniors Event and Second Career Bracelet
This year's tournament drew the largest seniors event field in WSOP history. A total of 4,425 players paid the $1,000 buy-in, hoping to get a bigger share of the $3,982,500 prize pool. However, only three notable players made it to the top. David Tran and Dennis Phillips tied for 5th place; Dan Heimiller fought 58-year-old Iowa firefighter Don Maas for the title and won.
CardPlayer has described Heimiller as "one of the quirkiest players on the tournament circuit". The poker pro has won his second career bracelet and pocketed his biggest cash prize so far – $627,462. Heimiller's total tournament earnings now add up to $4.7 million.
"Back in 2002, it wasn't for as much cash, so that makes this one a lot more important," Heimiller said about his first win. "It was also a smaller field and wasn't as prestigious back then. It was a great feeling, but this one feels extra spectacular because it was for such a big prize."
ESPN: Heimiller outlasts 4,425 in Seniors
The 2014 WSOP schedule includes some spectacular events, such as the $1 million buy-in One Drop, the $50,000 Poker Players' Championship, the $25,000 mixed-max and the Main Event. But the $1,000 buy-in Seniors Championship always gets a lot of well-deserved attention. This year, the event drew a massive field of 4,425 players over the age of 50.
Dan Heimiller proved he is not ready to retire from poker just yet, by making his way to the final table and defeating his rival Don Maas heads-up. Maas won his first cash prize at the WSOP. The 58 year-old is captain of the Cedar Rapids Fire Department. For Dan Heimiller, winning the event meant grabbing his second WSOP bracelet and taking home $627,462 in cash.
PokerUpdate: Dan Heimiller Wins WSOP Seniors Title
PokerUpdate offers a detailed account of the largest Seniors Event in WSOP history, which started out with more than 4,400 players. At the beginning of the third day, there were only 32 players left; a couple of hours more and the number was reduced to 10.
One of the players at the final table was Dennis Philips, who finished third place 2008 Main Event and came in second in the Seniors Event in 2012. The poker pro seemed confident that he could get a better result this year, but in the end he came in 5th, winning a prize worth well over $150,000.
Donald Maas, David Smith and Dan Heimiller were the last three players standing, with Maas having more chips than the other two combined. Heimiller knocked Smith into 3rd place, claiming his chips and leaving him with a $279,412 cash prize. With a chip advantage of about 3:1, the player managed to eliminate Maas, who earned $388,054 for his efforts. Heimiller became champion and claimed his second WSOP bracelet, as well as over $600,000 in cash.
Bluff Heimiller Scores the Eagle While Kitai Wins Third Bracelet
Sunday was a big day for players who participated in the 2014 WSOP. The schedule included seven tournaments and two ceremonies, and Bluff offers a detailed account of each and every event. Davidi Kitai beat Gordon Vayo, taking the big prize at the Six-Max event and securing his third bracelet.
Meanwhile, the Seniors Championship started at 11 am and took 12 hours to go from a total of 32 players to the final three. The Golden Eagle Trophy ended up in Dan Heimiller's hands, who held the chip lead with 4,140,000. Throughout his career, Heimiller sat at 60 final tables and won 8 of them. This is his second WSOP bracelet.
The $10,000 Razz Event was another popular competition on the schedule, with 12 players remaining in the game by Sunday. David Bach started out well, as chip leader, but he was soon eliminated and came in 8th. Daniel Negreanu was really hoping to win his seventh WSOP bracelet, but ended up finishing in 10th. The title went to George Danzer, who defeated Shack-Harris to win his first bracelet and the $294,792 prize.
CardsChat WSOP Day 13: Danzer, Kitai, and Heimiller Collect Gold
CardsChat also offers a thorough report on the 13th day of this year's WSOP, which brought three players some impressive cash rewards and new bracelets. Davidi Kitai, a Triple Crown winner, has won his third WSOP bracelet. George Danzer is at his first, and Dan Heimiller took home his second one.
It wasn't a good day for James Woods, one of the celebrities present at WSOP; the poker pro started to experience chest pain while he was playing. It is believed that the pain was caused by heart problems and the player was transported to the hospital by ambulance. Later that day, he tweeted that the incident was in fact caused by food poisoning.