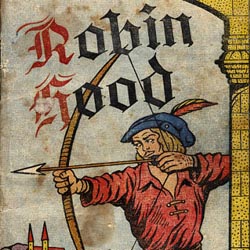 A modern-day Robin Hood has emerged on the Las Vegas scene and some families couldn't be happier. This anonymous professional gambler, known only as Robin Hood 702, is a high-stakes blackjack player who puts his money to good use through personal charity. Here's more on his story:
eCanadaNow: Modern Day Gambling Robin Hood
A modern day Robin Hood "702" has emerged in the gambling world and has already donated $35,000 to a needy family. The fortunate family, from Detroit, has a daughter with brain cancer and was in dire need of money.
A website was set up for those who want to be considered for a donation again this year. Families in dire financial need must submit videos explaining why they need the money. He will pick the family that touches his heart most. Those looking for publicity should leave Robin Hood 702 alone.
The blackjack gambler will fly the chosen family to Las Vegas. They will watch him play and, whether he wins or loses, he will pay at least half of their bills. Robin Hood's good friend will match the final cash donation. He will not be gambling to earn the money.
Thaindian News: Blackjack Robin Hood to help two deserving families this year
Last year, a modern Robin Hood helped a family out of debt and to begin life anew. This year, he has roped in more benefactors, and plans to help not 1, but 2 families who face a financial crisis and need immediate help.
He is as a "self-made man and expert blackjack player" and will help a family based on their video submission. He will fly them to Vegas and provide an all-expense paid weekend, including a true high-roller suite, show tickets, spa appointments, and meals. His website claims, "You will live like the high roller Robin Hood 702 is, then watch him win the money you need to become debt-free." He guarantees that if you're selected, at least half of your bills will get paid no matter what happens at the table. Last years family got this special treatment and $35,000.
"I'm looking for anyone that's in debt … that needs some help" says the anonymous gambler, who will be working the tables to raise money for another family in need. "I'm going to look for the story that's really going to touch my heart. That's it."
Fox News: Modern-Day Robin Hood
Robin Hood 702 is a high stakes blackjack player known in Vegas casinos for wagering thousands of dollars a hand, sometimes winning and losing hundreds of thousands of dollars in a single day.
Now he's offering his skills, and his own money, to help a family in need. He wants to remain anonymous to keep the focus on the good deed he's ready to do.
"I'm looking for a well deserving family up against hard times. People $25,000 to $50,000 in debt who did right by family or neighbors in the past. Now it's their time to be helped and I want to be the one to help them."
He's created a website, Robinhood702.com, where he'll collect submissions now through Sept. 15 before choosing a winner. Anyone can nominate a friend, relative, neighbor or themselves, by sending a video explaining their hardships, contributions or other reasons they should be chosen. He'll choose a winner after confirming the details of their story and financial crisis.
The chosen family is promised "an unforgettable experience" in Las Vegas or a similar gaming venue. He'll fly them in, put them up in a high-roller suite and cover meals, spa treatments and show tickets. He'll go into the casino's VIP high-limit room and win the money necessary to pay off their debt.
"What if you lose?" I ask him. "I won't" he insists.
He doesn't recommend that others try this and says he knows some perceive gambling as "the dark side," but he believes he can use it to do good and says he hopes to start a national movement, with people using their skills or expertise in other fields to help families in crisis.
"My goal," he says, "is to save someone's house, pay their debts and win back their American dream."
Robin Hood 702 is a pro blackjack player who will choose a needy family and pay off at least half of their debts while they live like high-rollers.