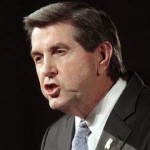 After Gov. Riley's anti-gambling task force was deterred from action by a judge's order in Alabama recently, the debate over gambling and its legality has escalated rapidly. The subject has the potential to split the states vote, and a scandalous resignation has fueled the fire.
WTVM 9: AL task force commander quits after gambling win
The commander of Alabama Gov. Bob Riley's task force on illegal gambling has resigned due to a recent, $2,300 win at a brick-and-mortar casino in Mississippi. David Barber, the commander, resigned on behalf of his actions potential to be a "political distraction" for the task force.
The commander submitted a formal resignation in a letter to the governor on Friday. In the letter, Barber explained that he gambled at a casino in Mississippi and legally won the money in a game.
Both Riley and Barber, the former district attorney in Jefferson County, claim that the electronic bingo machines used in a new facility operated in Alabama are, in fact, slot machines, which are currently illegal in Alabama.
Barber's resignation arrived on the same day that the Alabama Supreme Court lifted a judge's order which had blocked the task force from raiding electronic bingo operations at Country Crossing in Dothan.
CBS 42: Jackpot! Gambling Task Force Commander Resigns
Bob Riley's Commander of the Illegal Gambling Task Force, David Barber, struck a generous jackpot of $2300 on recent trip to Mississippi. Trying to remove himself from the politics circling around the issue, David Barber resigned from his position. Here are a few excerpts from the Commanders resignation and the Governors reply:
Commander David Barber
I hereby resign as Commander of your Task Force on Illegal Gambling.

While I remain committed to the Task Force's goals, I have concluded that my continued participation will become a political distraction from the Task Force's important work. On a recent visit to Mississippi, I visited a legal casino and won a $2,300 prize playing a legal game. While my actions were in full compliance with the law, I am convinced that the forces that operate illegal casinos in Alabama will focus on my actions as part of their continuing effort to smear you and your Task Force.
Governor Riley
With regret I accept your resignation as Commander of the Task Force on Illegal Gambling.

I want to commend you for your service to the State of Alabama as the Task Force's leader. Adherence to the rule of law is the cornerstone of the free and fair society that we enjoy in our state and nation. Thank you for being willing to take a stand in support of that most fundamental principal.
WSFA 12 (NBC): Congressman Bright weighs in on gambling debate
Without a doubt, gambling is the hottest topic in Alabama. According to 2nd District Congressman, Bobby Bright, "This shouldn't be an issue that divides our state." Regardless, this is one such issue. The definition of gambling legality is creating tension between the state's residents and leaders.
Congressman Bright thinks there's a more suitable solution to the issue than ridding the state of electronic bingo machines according to the wishes of Gov. Riley.
"What we could all do is agree on a referendum and let the people decide. That way it eliminates the Governor having to go down into a community and raid and make it look like he's fighting the local leadership."
Should the situation lead to a referendum, there must be boundaries.
"It would need to be regulated. A commission should be set up and private individuals should not be profiting from the proceeds of a gambling initiative if it passed," he adds.
While the congressman doesn't agree with gambling, he knows the decision isn't his to make.
"I also am a public servant speaking for my constituents. And whatever they choose to do, however they choose to live their life in their communities, I will honor that."
Bright hopes that if a referendum were passed, education would be the recipient of the industry's revenue.