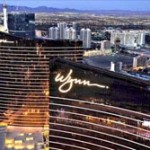 From out of nowhere it seemed like the United States, and the rest of the world for that matter, fell into a huge whole of economic depression about 2 years ago. It came and it seems that its still here, but in sunny Las Vegas profits are once again on the rise.
Business Week: Vegas Casinos Revenue Up 8.3%, First Gain in 2 Years
For the first time in about 2 years, gambling revenue in Las Vegas rose 8.3 % in November. Nevada's Gaming Control Board said proceeds on the Strip rose to $473.8 million. Revenue for all of Clark County, including downtown Las Vegas, gained 6.9 % to $750.8 million, according to the board.
Vegas resorts have slashed room prices and increased special offers to spur demand. Daily room rates in October 2009 were $99.59 on average, down 14% from 2008, according to the Las Vegas Convention and Visitors Authority.
December 2007 was the last time gambling revenue increased, and then it rose less than 1%. New Jersey's Casino Control Commission says Atlantic City gambling proceeds fell 9.8% last month.
Market Watch: Nevada gambling revenue up for first time since 2007
Good news came from Nevada, Tuesday, when state regulators reported an increase in gambling revenue for November, the first monthly rise in almost two years. Silver State casinos reported $873.2 million for the month, up 4.4% from November 2008. On the Las Vegas Strip, revenue increased more than 8% to $473.8 million.
Other jurisdictions reporting increases include North Las Vegas, the Boulder Strip and parts of Washoe County. The rest of Nevada was down by anywhere from 1.7% in downtown Las Vegas to almost 27% in South Lake Tahoe.
The total win on table games statewide jumped 17% to just more than $308 million, largely due to a better than doubling of the take from baccarat on the Strip. Slot-machine revenue was down slightly to $547 million.
Hotel rooms that were $300 are typically running at half that, squeezing margins in a business that's traditionally high priced. These low room rates are attracting leisure travelers long priced out of the high-end resorts, keeping occupancy levels from falling as far as other key measures, but pressuring other revenues.
Analyst, Bill Lerner, commented, "multiple restaurateurs that we have spoken with are experiencing growth in key metrics such as covers and average checks," and when that is combined with "overall Las Vegas visitation momentum … we are more confident that 2010 will represent the positive inflection in Las Vegas."
ABC News: Nev. Casino Winnings up for 1st Time in 23 Months
November gambling revenue in Nevada rose for the first time in roughly two years, as casinos won nearly $873.2 million from bettors. The 4% rise in revenue from last November was the first increase after 22 months of declines.
State revenues collected in December topped $57 million, up 28.3% from $44.4 million last year. Taxes paid on casino winnings account for about 30 % of the state general fund. The control board said the state collected $313.2 million in the first 6 months of the fiscal year, down 5.1 % compared with July-December 2008.
November's results benefited from baccarat on the Strip and the Nov. 14 Manny Pacquiao-Miguel Cotto boxing match at the MGM Grand. Revenue at Downtown Vegas casinos was down 1.3 %, while North Las Vegas and the Boulder Strip saw double-digit increases.
Clark County, which includes Las Vegas and is Nevada's largest county, was the only county in the state with a year-over-year increase in monthly revenue.