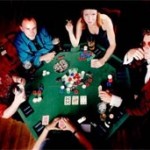 Cornell University Student, Kyle Siler, did a massive sociologic study based on 27 million hands of poker and the ratios of wins and losses which can also be attributed to everyday life. According to his results, the more poker wins a player has, the more he/she is likely to lose.
Time: How Winning Can Mean Losing — in Poker and in Life
One can learn a lot about gambling by analyzing 27 million hands of online poker. Cornell University's Kyle Siler has done just that. His findings: the more hands you win, the more money you're likely to lose — and this proves true well beyond a game of cards.
Siler wasn't interested in just poker, but in the idea of how people handle risk, reward and payoffs. Gambling is perfect for studying these factors — and a rich pool of data can be found on the Internet, where millions can play at once and transactions are easy to observe and record.
To gather data, Siler used a software, PokerTracker, and made it collect and collate information on small- medium- and large-stakes games. While crunching the information, he found the strange, inverse relationship between the number of hands won and the amount of money lost. He also noticed that it was novice players who lost the most.
The reason: a majority of wins tallied were for small stakes. The longer new players played the more confident they got, and the likelier they were to lose one or a few big hands. "People overweigh their frequent small gains vis-à-vis occasional large losses," Siler says.
Investing, driving, buying a house and merely crossing the street are all acts that involve discernible risks and uncertain rewards. The more small returns you get from small investments, the likelier you are to make, and lose, a big investment.
Walking away from a poker table can be easy, but walking away from life — and all the risks and rewards it presents you — isn't an option. In both venues, the rule should be the same: gamble only what you can afford to lose — and know when you're approaching those stakes.
USA Today: Poker wins often lead to bigger losses, study says
In a Journal of Gambling Studies report, Cornell University sociologist, Kyle Siler, observed 27 million online poker hands from the past 2 years, to find that winning lots of small stakes ends up losing to bigger losses. Siler analyzed data on 300,000 poker players playing styles to winnings, and found an, "increased proportion of aggressive players as one moves up stakes."
Given the huge role of luck in delivering big payoffs and big losses, the best poker players must learn to keep winning or losing in stride. An amateur poker player, Siler says his study helped calm his play at the card table.
Science Daily: Online Poker Study: The More Hands You Win, the More Money You Lose
A new Cornell study of online poker seems counterintuitive: The more hands players win, the less money they're likely to collect, especially when it comes to novice players. The likely reason, said Cornell sociology student Kyle Siler, is that multiple wins are likely for small stakes, but the more you play, the more likely you will eventually lose big losses.
Siler said, "people overweigh their frequent small gains vis-à-vis occasional large losses in everyday life." In other words, players feel positively reinforced by their streak of wins but don't understand how occasional large losses offset their gains.
The research not only examined poker, but also "speaks to how humans handle risk and uncertainty," said Siler, whose look at online poker combines aspects of behavioral economics, economic sociology and social science theory. "Riskiness may be profitable, but also increases the variance and uncertainty of payoffs.
In online poker, a multibillion dollar industry, Siler concluded that the biggest opponent for many players may be themselves, "given the challenges of optimizing one's mindset and strategies, both in the card game and the meta-games of psychology, rationality and socio-economic arbitrage which hover beneath it," he said.
People must realize that their limits and understand that big losses offset multiple small gains when dealing with internet gambling and life in general.