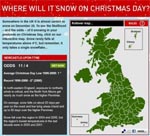 Fifty-two year old Cliff Bryant, placed several accumulator bets on whether cities in Britain would enjoy a White Christmas, and won all of them bringing his winnings to £7.1 million. Ladbrokes, the betting site where he placed the bet, is refusing to pay out this sum on account of the bets being accumulators instead of singles.
Press Association: No £7.1m payout after bet 'error'
Bookmaker Ladbrokes refuses to pay off a bet worth £7.1 million to a man who wagered snow would fall on Christmas because it was accepted by mistake. Cliff Bryant placed 2 £5 accumulators on snow fall across 24 British Cities on December 25.
Ladbrokes staff accepted the bet by mistake as the company rules state such a wager can only be a single bet. The first accumulator would've netted Mr. Bryant over £4.9 million, the second £2.23 million. The company honored the relevant single bets and paid out a lesser £31.78 instead. They've since apologized for the mistake.
Mr. Bryant is seeking legal advice over the error and says he was "gutted" by the decision. He urged the company to make rules clearer. A Ladbrokes spokesman said company rules state "snow at Christmas" bets must be singles only, rather than accumulators.
Reuters: Bookie refuses to pay out £7 million on snow bet
Cliff Bryant placed 2 £5 accumulator bets that snow would fall on 24 towns and cities across the north of England on Christmas. Now he's being refused the £7.1 million payout he won.
"We have apologized to the customer for any confusion and for mistakenly accepting an accumulator bet when our own rules state that only single bets are available on a market of this nature," said a Ladbrokes spokesman. "We are happy to void the bets and to pay the customer his winnings on the relevant singles." That would be a mere £32.
The graphic designer from Southampton, says he was "gutted" and will seek legal advice. He claims the 1st bet would have won him 4.9 million pounds, with the second adding 2.2 million. "If I make a mistake in my work like that it costs me dearly and I think the offer should be a lot more generous than they have made."
Ladbrokes gave Bryant details of the Independent Betting Adjudication Service (IBAS), an neutral adjudicator that deals with gambling operators and customers disagreements.
Danny Cracknell, an IBAS manager, told Reuters that Bryant had been in contact and they would be investigating the issue once he had completed the relevant forms.

Mirror.co.uk: Punter furious after bookies refuse to pay out on £7m white Christmas bet
A UK punter thought he won £7million betting on a white Christmas and ended up with just £31. Cliff Bryant spent £10 on 2 accumulator bets that 24 UK cities would see snow fall on Christmas. All of his predictions were correct but he was later told that his wager was invalid.
Company rules say accumulators, a series of linked bets, can't be placed on the chances of a white Christmas. Cliff received the winnings he would have got had he placed 24 single bets. The dad-of-three, said: "My heart was beating fast when I thought I'd won but now I'm absolutely fuming. If I'd been paid I would have loved to have got my teeth done."
A Ladbrokes spokesman said: "We apologize that a bet was taken in error. We intend to talk to Mr. Cliff to see if we can make it up to him."
Cliff Bryant would've made over £7 million this Christmas but Ladbrokes claims that his bets were invalid and will award him only £31 due to the mishap.