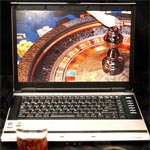 Talks of a new way of going about dealing with offshore online gambling operators are now circulating. Under the proposed changes, foreign operators would be required to obtain licenses from the UK Gambling Commission, and to comply with British gambling laws. The issue of taxing foreign operators has not been mentioned.
The Times: Overseas online gambling groups will need license
Foreign internet gambling companies that target British gamblers will soon require a license according to a proposal released yesterday by the Department for Culture, Media and Sport (DCMS).
Sports Minister Gerry Sutcliffe admitted only a few of the biggest overseas gambling operators that target British players are forced to comply with the Gambling Commission's regulations. The proposed system would require online gambling operators licensed outside Britain to apply for a license from the Gambling Commission before they could legally offer their services to British players.
An additional rule would require any company that targets British players to record information about suspicious betting patterns, and to share it with UK sports bodies and with the Gambling Commission.
The Government is also looking into ways of securing levy contributions from overseas operators, which has been a concern since UK companies Ladbrokes and William Hill moved offshore. The issue of tax, however, has yet to be mentioned.
The Guardian: Online betting faces regulation overhaul
The British government will soon overhaul the problematic online gambling tax by tightening regulation of offshore operators.
The change is influenced in part by the recent successes of online gambling regulation in other European Union countries.
"Online gambling has changed significantly in recent years with many European countries taking new approaches to regulation," says Sports Minister Gary Sutcliffe. "It would be wrong of us to stand still where things are changing around us."
The proposed changes may see the Gambling Commission issuing individual licenses to online gambling operators, with license fees contributing to the cost of gambling regulation and the treatment of gambling addictions.
Sutcliffe's announcement comes shortly after Ladbrokes and William Hill, fed up with UK tax policy, announced plans to move their operations to offshore tax havens.
Because one of Gordon Brown's last moves as chancellor was to bump the tax rate for internet gambling firms to 15% of gross profits, no poker or casino sites conduct their UK business through a Gambling Commission license or pay tax here.
According to a Treasury spokesperson: "The focus of the Department for Culture, Media and Sport (DCMS) review was on the regulation – not taxation – of remote gambling … The Treasury will continue to work with DCMS to ensure that any implications for tax policy, arising from the proposals, are properly considered."
The Independent: Plans to regulate offshore gambling websites
The British government today revealed to regulate foreign gambling websites that target UK customers.
Sports Minister Gerry Sutcliffe revealed that the new rules will require all foreign operators that cater to British players to be licensed by the UK Gambling Commission and follow UK gambling laws.
Under the proposed changes (which are still being discussed), all offshore gambling operators targeting the British market will have to comply with the Gambling Act and will be required to report suspicious wagering patterns to the Gambling Commission and to sport governing bodies.
Licensed foreign operators will also have to comply with British license regulations, such the protection of children against gambling, and will be required demonstrate how they can contribute to lessening problem gambling in Britain.
In a statement to Parliament, Mr Sutcliffe revealed that few companies active in the British market are now regulated by the Gambling Commission. "Though British consumers are not unprotected – most overseas jurisdictions have regulatory systems – standards vary and requirements differ from our own."
Several UK bookmakers recently chose to shift their online businesses overseas to avoid UK taxes; this is one of the driving forces behind the recent talks.