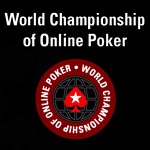 American online poker champ Tyson Marks of Montana won the largest poker prize in online gambling history last week, scooping up an incredible $2.25 million win in the PokerStars World Championship of Online Poker (WCOOP) main event.
Marks, who goes by the online handle POTTERPOKER, beat out more than two thousand other hopefuls who entered the two-day final event. This massive collection of players gave the tournament a $12,215,000 prize pool, making it the richest internet poker tournament in online gaming history.
By the time Marks hit the final table, he had an incredible 30 million chip lead over the competition, and he pushed through to take the win. Of course, the other two finalists didn't walk away empty-handed. Both took home more than $1 million in prize money.
"Being able to say: "I'm online poker world champion" is something that still doesn't feel real to say" Marks commented. "I don't feel like it's going to change who I am at all. I have an amazing girl and friends and family who are amazing….this money is really just gravy."
The $2,278,097.50 poker prize makes a nice addition to Marks' $1.3 million in career online poker tournament earnings.