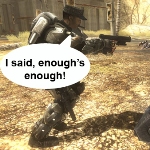 Microsoft may be setting new records with its "Halo: Reach" and "Halo 3," but competitor Activision will be launching its "Call of Duty: Black Ops" on November 9 with a feature that no Halo game can touch: Gambling against other players to improve your character's potential.
Halo: Reach pulled in a ridiculous $200 million in sales on its first day of release and vaulted to the upper reaches of Xbox Live activity stats as well. Though "Call of Duty: Modern Warfare 2" stayed in the #1 most popular spot last week, "Halo: Reach" will surely be this week's top game, as numbers show that it has been the most popular game on the network for seven days running. Incidentally, the three-year-old Halo 3 was third-favorite on the Xbox Live chart.
However, while the "Halo" series is getting a bit chastised among games for a continued lack of originality, Call of Duty: Black Ops is set to innovative perhaps the whole genre with its "gamble" feature.
In Black Ops' "wager matches," players will be able to compete against one another in four unique arenas. The players agree upon the stakes and the winner earns "Call of Duty Points," which may be used to upgrade your character for use in other games.
Though not actually employing real money, one can easily imagine other games incorporating cash bets into their software. Madden for money, anyone…?