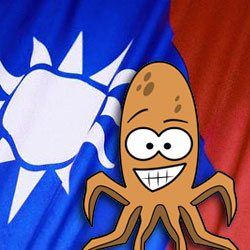 A mystery man has just won a $30 million dollar jackpot in Taiwan's national lottery, just hours after one lotto stand's oracle octopus predicted that the next big winner would be a male.
The Taiwan Lottery Company has so far revealed that the winner is a man from eastern Taitung county, but they won't say much else. The man collected his winnings quietly, and is trying to keep out of the spotlight.
As for the oracle octopus, it might have just been a lucky guess, but according to the Taiwan Lottery Company, most winners in the country have in fact been men. Based on a sample study of 1,400 pst winners, the lotto group has put together a very detailed picture of the average Taiwanese lottery winner, all the way down to details such as "large earlobes".
"The latest winner also has an oval face, double-eyelids and a high nose," predicted Huang Chi Yi, General Manager of Taiwan Lottery Company. These features describe the majority of the company's big winners, who tend to be between 40 and 59 with generous souls who were born in the Chinese year of the Goat.
This $30 million lottery prize is the largest jackpots every paid out to a single winner in Taiwan. The store that sold the winning ticket has been buzzing with activity ever since the win was announced, with many visitors having their picture taken in front of the store in hopes of catching some ambient luck.