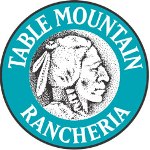 With the current economic situation in the United States sending casinos looking for ways to entice customers in, many original promotions and perks are getting a test run in some gambling houses on Native American lands. Case in point in the Table Mountain Casino located nearby Fresno, California. At that casino, every one of the 2,000 slot machines on the gaming floor is tied in to an exclusive progressive jackpot available only to the casino's "Player's Club" members. The jackpot starts at $50,000 and can hit a max of $150,000.
The first winner of the "Mega Mountain Jackpot" was reported this weekend after about three weeks with the big prize installed: A player known as Richard from Auberry, California, took home a nice $100,633.33 in cash on a $3.75 spin on his favorite machine.
Another feature Table Mountain introduced was its "Rapid Bonus Rewards," a way of hourly awarding random players with free spins.
It sounds to us like Table Mountain Casino is learning a few tricks about promoting one's brand from online casinos…