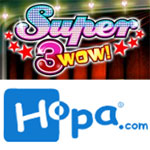 When people think of online gambling, they usually imagine video slots, blackjack tournaments, or internet poker games. Virtual scratch cards are definitely not the first things that come to mind! These simple games, however, are quite popular with a certain crowd. As news of this big win spreads across the internet, scratch tickets are going to get a lot more attention.
The €1,000,000 jackpot was won on a scratch card game called Super 3 WOW by a player named Lydie A. She was enjoying the game at an online gambling site called Hopa, which specializes in online scratch tickets and other instant-win titles.
When Lydie scratched off the winning ticket to reveal three clovers on a single card, she was actually watching her account balance instead of the card. She saw her balance jump by €250,000, she just about fell out of her chair! She was still staring at the numbers in disbelief when a Hopa team member contacted her on chat, congratulating her on her €1,000,000 win, explaining that not all the money had been added to her account yet. It was only then that she realized just how much money she had just won.
This wasn't Lydie's first big win at Hopa. This time last year, she was playing a slot game called Super Slot 7 when she won €100,000. Lydie is a regular at Hopa, which offers not only online slots and scratch card games but a great range of mobile phone games too through the unique Hopa Mobile Casino.