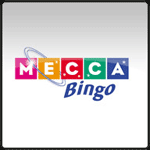 Another massive progressive jackpot slot game paid out big this week. This time it was at one of the internet's top bingo sites: Mecca Bingo.
Mecca Bingo is a unique site, because it is actually the online version of a chain physical bingo halls in the UK. The lucky winner, who uses the online alias Dudderbear, was at a Mecca Bingo hall in Leeds when a lucrative welcome bonus led her to sign up online. Since then the mother of two has been regular at Mecca Bingo's online website.
Dudderbear won the €65,625 prize on a progressive jackpot game called Jungle Madness. This wild video slot is filled with jungle critters like monkeys, snakes, and tigers. Its progressive jackpot prize is paid when five tigers appear in the middle payline.
"I just couldn't believe it when the slot machine demonstrated that I had won," explained Dudderbear. "Immediately I rushed to my mother who also was speechless. My mother has an injury so she wasn't able to go wild with me but her calmness had a positive effect on me. I informed my children while my husband is away for his work. I still need to bring him the good news."
"I plan to spend the money on a new car and on a nice vacation. I already know which car I would love to buy! Surely my colleagues will have more options for spending the windfall."