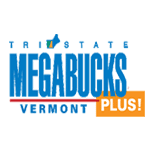 When Frank Sullivan hit the Tri-State Megabucks lottery sponsored by Maine, Vermont and New Hampshire state governments for $12.5 million, he knew exactly what to do – no wonder, as twice before family members have struck it rich.
The $12.5 million represents the largest single prize ever rewarded in the Tri-State Megabucks lottery since its establishment in 1985. The bad (though certainly manageable) news for Sullivan is that, since he's a Vermont native who bought the ticket across the border in New Hampshire, he'll be paying taxes on his winnings in two states. In taking the "lump sum" option, Sullivan will be banking over $5 million.
According to local media, one of the very first things the 52-year-old did – even before stepping up to claim his prize – was to give two weeks' notice at his job at a local electronics supplier. He now reportedly carries around lip balm "for people that want money – They've gotta kiss up a little bit more" and a black book "for the marriage proposals."
The store in Gilman where Sullivan bought the ticket will also be receiving $30,000 for selling the lucky jackpot winner.
NECN Online also reports that Sullivan had purchased tickets for last night's Megabucks drawing – presumably he didn't win that one, however…